Sounds Like Machine Gun Kelly Is Not Pleased With Midnight In The Switchgrass, The Movie He Met Megan Fox On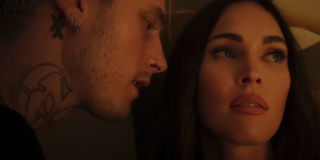 For most actors, their work on a movie doesn't end when production wraps. They do interviews, walk the red carpet and remind their fans to show up and support their latest career venture. However, in some cases, they end up making it obvious that they're not the biggest fans of the final cut. In Machine Gun Kelly's case, even though he met his current girlfriend Megan Fox on the set of Midnight In the Switchgrass, he's not even pretending to support the film now that it's hit theaters.
Midnight in the Switchgrass was, in some ways, a big moment for Machine Gun Kelly, aka Colson Baker. The musician and actor made major headlines last year while the film was in production, mostly because of his then-budding romance with his co-star. However, he seems to have made it clear that he's moved on from that movie in a professional sense when he tweeted something vague (and yet not so vague, given the timing) about how he approaches promotion:
Though he didn't specifically cite Midnight in the Switchgrass as the catalyst for that tweet, it's easy to put two and two together. The film, which is based on the true story of Texas' "Truck Stop Killer," was released on July 23 -- and his first role in nearly a year. Even though he features somewhat heavily in the trailer, his role as a pimp who has a sexy-tense interaction with Megan Fox's FBI agent character doesn't seem to get too much screen time in the film itself.
If Midnight in the Switchgrass is, in fact, the "trash" movie that Machine Gun Kelly is referring to, he can at least take heart in knowing he's not the only person with that opinion. According to Rotten Tomatoes, the crime thriller isn't exactly a hit with critics, either -- it currently has a less than 20% approval rating. Ironically enough, despite his supporting role, he was named as a stand-out performer in the film by The Hollywood Reporter.
Some who follow Megan Fox and Machine Gun Kelly's epic romance may not be surprised at his response. According to Variety, the actress bowed out of a midnight screening of the film earlier in the week. While she cited a rise in COVID-19 cases for her change of plans, it undoubtedly left some wondering if she was less than enthused about promoting it.
Machine Gun Kelly's response - or lack thereof - to Midnight in the Switchgrass's release may be a bit controversial for those who take a Thumper-from-Bambi approach to life, especially since the film's director Randall Emmett recently praised his chemistry with Fox. For others, his candor about the film may seem refreshing. Either way, while his romance with Fox remains strong, he's already moved on to other things -- like a cameo appearance in this November's Jackass Forever.
Your Daily Blend of Entertainment News