Billie Eilish's Disney+ Concert Experience: What We Know About Happier Than Ever: A Love Letter To Los Angeles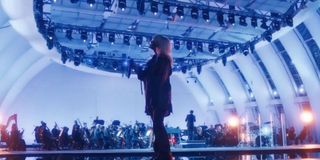 On September 3rd, Disney+ will allow concertgoers around the world to experience an extraordinary event — all from the comfort of their homes. More specifically, Billie Eilish will be at the forefront of the new streaming-only concert film, Happier Than Ever: A Love Letter To Los Angeles, which will allow audiences to hear live renditions of the chart-topping artist's latest tunes from the combined vision of Robert Rodriguez and Patrick Osborne. In the weeks leading up to the movie's premiere, we're learning more information about this exciting release, which we'll share with you now. Here's what we know about Disney+'s concert movie, Happier Than Ever: A Love Letter to Los Angeles.
Disney+'s Happier Than Ever: A Love Letter To Los Angeles Will Premiere On September 3rd
With the pandemic preventing concerts from happening, at least traditionally, musicians needed to discover inventive new ways to recreate the in-person experience. Last year, Taylor Swift produced and directed Folklore: The Long Pond Studio Sessions, which showed the artist performing the songs from her latest album in an immersive fashion. Now, Billie Eilish will be at the forefront of Happier Than Ever: A Love Letter to Los Angeles, a dynamic cinematic concert-going experience that will provide music lovers with a front-seat opportunity to hear live — and lively — renditions of her newest tunes.
The Concert Film Will Feature Intimate Performances Of All 16 Tracks From Billie Eilish's New Album, In Sequential Order, For The First And Only Time
With the vaccine rollout in effect, we're slowly getting back to normal. That said, a few activities are left a bit uncertain — including concert tours. Artists have understandably been hesitant to travel from state to state (let alone country to country) to perform their music for live audiences, but that hasn't stopped Billie Eilish. The beloved artist has a nearly sold-out tour in the near future, but if you can't grab a ticket, Disney+ is here to help. In September, they'll premiere Happier Than Ever: A Love Letter To Los Angeles.
As the press release notes, this upcoming concert film is expected to be the first and only time that Billie Eilish performs all 16 tracks from her brand new album, Happier Than Ever, in sequential order. That phrasing is a bit choice; certainly, she'll perform these songs live again, if not in the album's exact order. But if you're a big Billie Eilish fan — or even a casual one — you will want to watch this distinct concertgoing event.
Happier Than Ever Will Be Performed On The Stage Of The Legendary Hollywood Bowl
The world-famous amphitheater that is considered one of the 10 greatest live music venues in the United States, according to Rolling Stone, the Hollywood Bowl is quite easily among the biggest and best concert locales in the Los Angeles area — if not the best. It has been a Hollywood staple for over a century, and it has hosted thousands of great artists under its famous arched roof. Now, it'll be the home of Billie Eilish's first concert film (not counting this year's Apple TV+ documentary), as this rare intimate performance is the centerpiece of Happier Than Ever: A Love Letter to Los Angeles.
It's Directed By Robert Rodriguez And Patrick Osborne
One filmmaker is the multi-hyphenate behind the Spy Kids movies, Sin City, From Dusk Till Dawn, Desperado, Machete, Alita: Battle Angel, and, most recently, Netflix's We Can Be Heroes. The other is the Oscar-winning animator, screenwriter, and director behind 2014's acclaimed short film, Feast. Together, Robert Rodriguez and Patrick Osborne have joined forces to helm Disney+'s Happier Than Ever: A Love Letter To Los Angeles, Billie Eilish's unique streaming-only concert experience that'll provide fans with a once-in-a-lifetime opportunity to hear the artist's latest tracks in a distinctly pictorial fashion.
Happier Than Ever Will Feature Finneas, Romero Lubambo, The Los Angeles Children's Chorus, The Los Angeles Philharmonic, And More
Along with Billie Eilish taking the center stage, Happier Than Ever: A Love Letter to Los Angeles will also feature Finneas, Billie's brother and frequent producer, along with Romero Lubambo, a renowned Brazilan guitarist. Additionally, the Disney+ special will also include performances from the Los Angeles Children's Chorus and the Los Angeles Philharmonic, conducted by music and artistic director, Gustavo Dudamel. Furthermore, Happier Than Ever has orchestral arrangements by David Campbell, i.e. Beck's father.
The Special Will Include Several Animated Sequences That Take You On A Dream-Like Journey Through Billie Eilish's Hometown
As noted earlier, Patrick Osborne is on-hand to co-direct Disney+'s Happier Than Ever: A Love Letter to Los Angeles, as he'll supply the concert film's vivid animated segments. What those animated scenes will entail remains vague, at least for now, but the movie's press release promises a few dream-like sequences that take you through Billie Eilish's hometown. It's also expected to wrap you inside the wild mind of this daring new artist.
Happier Than Ever's Teaser Gives Us Our First Glimpse At This Stylish Concert Film
In less than 40 seconds, the teaser trailer for Disney+'s Happier Than Ever gives us our first glimpse at what we'll get from this stylish concert film. Through its hyper-edited blend for flashy photography, poppy musical performances, world-renowned talents, and brief flashes of animation, this promo is in-and-out in a dash, but it gives us a small, intriguing taste of what we can expect from September's anticipated streaming title.
Check out the teaser below:
Billie Eilish Says It Was 'The Most Surreal Shoot Ever'
Though we've only gotten a brief look at what's in store for this unorthodox concert movie, Billie Eilish was quick to hype up her special. Promoting the new movie on her Instagram, Eilish claimed that she has "never done anything like this" and that it was "the most surreal shoot everrrrrrrr." The chart-topping musician ended this promotional social media post by noting that she "cannot WAIT" for audiences around the globe "to experience this film," and we don't have long to wait. As we've noted before, Happier Than Ever: A Love Letter to Los Angeles will be available to stream on September 3, 2021.
Be sure to follow CinemaBlend for 2021 fall TV schedule updates and more.
Will is an entertainment writer based in Pittsburgh, PA. His writing can also be found in The Playlist, Cut Print Film, We Got This Covered, The Young Folks, Slate and other outlets. He also co-hosts the weekly film/TV podcast Cinemaholics with Jon Negroni and he likes to think he's a professional Garfield enthusiast.
Your Daily Blend of Entertainment News
Thank you for signing up to CinemaBlend. You will receive a verification email shortly.
There was a problem. Please refresh the page and try again.