Alan Cumming Does Not Mince Words When Revealing Exactly How He Said No To A Major Harry Potter Role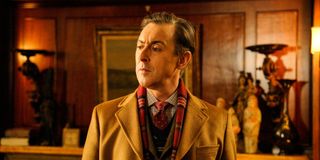 Many actors lament the roles that got away. It's far more rare for an actor to happily turn a huge role down, especially if it's in a well-established franchise. But The Good Wife's Alan Cumming is very honest about the fact that he once turned down a huge role in Harry Potter. In fact, he doesn't seem to have any regrets at all, as he didn't mince words when explaining why he turned it down.
Over the span of eight movies, hundreds of actors appeared in the Harry Potter series. While the films center around the students at Hogwarts, many adult actors also filled key roles in the ensemble. Some characters, like Alan Rickman's Severus Snape were present for the length of the series, while others only showed up for a film or two. Still, even if a character was a one-off performance, many actors likely coveted those roles. Alan Cumming was not one of them, as he told The Telegraph that he was given the chance to audition for the role of Gilderoy Lockhart in Harry Potter and the Chamber of Secrets, the second film in the series. But due to the circumstances surrounding the casting process, his response to the opportunity was less than positive:
That may be surprising to some, given what a big deal Harry Potter was. But Cumming explained what made him so resistant to join the franchise:
With that context, it makes sense why Cumming wasn't keen to hop on the Hogwarts Express. Knowing that your work is valued less than another actor's can't be a great feeling. It's hard not to wonder what Gilderoy Lockhart would have been like had he been played by Cumming, though.
Kenneth Branagh -- who almost ended up directing a Harry Potter film as well -- did well portraying the celebrity wizard-turned-Defense Against the Dark Arts teacher as the smarmy jerk fans of the books know him to be. Yet Alan Cumming could have brought a slightly sinister edge to the role and made it feel completely different. Nevertheless, fans of the actor did still get a chance to see him play opposite Daniel Radcliffe. The two actors co-starred in a production of the play Endgame in 2020, so they'll always have that connection, at least.
Your Daily Blend of Entertainment News