Florence Pugh Looks Intense In First Look At Her New Netflix Movie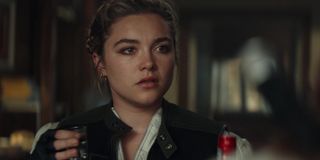 Florence Pugh is coming off of starring in one of the year's biggest movies in Black Widow, and it doesn't look like she's slowing down anytime soon. The actress proved her action chops and her super-spy credibility as Yelena, and everyone wants more from her in the MCU as soon as possible. Florence Pugh has hope for Black Widow 2, but she has many other projects in the works before we ever get a sequel. In the first look for her new Netflix film, Florence Pugh looks pretty intense.
Florence Pugh is set to star in a new thriller. Netflix has teased Florence Pugh's new movie, The Wonder, and the Black Widow actor looks pretty tense. The film is in production and is an adaption of an acclaimed novel and is described as a psychological thriller. Here is the first look at The Wonder, posted by Netflix on Twitter:
The teaser is just Florence Pugh in full period-specific costume, looking very intense in what looks like a graveyard. Directed by Sebastián Lelio, The Wonder is inspired by the 19th-century phenomenon of "fasting girls." Florence Pugh will play Lib, a nurse who travels to a small Irish village to investigate and observe a young girl. The girl hasn't eaten for months but has been healthy for the entire time, pointing to something unusual going on in the remote village.
The premise is exciting and will surely be a showcase for Florence Pugh. The film is a period piece that looks like it will explore some important themes while delivering a thrilling psychological drama. Florence Pugh's career seems like it's just starting to explode, and she has been nominated for an Academy Award for her work in Little Women. Her filmography continues to add exciting and unique movies.
The Black Widow post-credits scene that the film's writer is "guilty" about sets up Florence Pugh's Yelena's next step in the Marvel Cinematic Universe, and it seems like it will be in the upcoming Hawkeye TV show on Disney+. Pugh's, Yelena could be a part of the Thunderbolts, the team that's been teased since The Falcon and the Winter Soldier. Florence Pugh will more than likely be featured in the MCU for a long time, taking the mantle of Black Widow from Scarlett Johanson.
Netflix's The Wonder looks exciting, and the Florence Pugh-led film will undoubtedly be a must-watch when it drops on the streaming giant. The period drama and psychological thriller is yet another interesting film for Pugh, who is covering all the bases in her career with Oscar movies and big-budget franchises. We cant wait to see The Wonder and whatever comes next for one of the brightest young actors in Florence Pugh.
Your Daily Blend of Entertainment News
Movie and TV obsessive. A good Heist movie is the way to my heart. Enjoyer of everything from Marvel Movies to Rom-coms.