Upcoming Florence Pugh Movies And TV: What's Ahead For The Black Widow Actress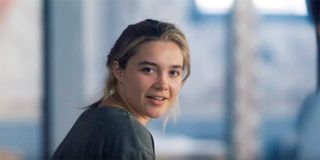 Florence Pugh is one of the most highly sought-after rising stars at the moment. She's been acting for film and television for less than ten years and is already an Academy Award-nominated actress, been in one of the biggest 2021 movies, and attached to quite a few major projects. Little Women and Black Widow have helped propel Florence Pugh's career but she has a lot more to come. There are so many upcoming Florence Pugh movies and TV shows that we can't wait to watch.
Florence Pugh has several major projects in the works, everything from Marvel's Hawkeye to Don't Worry Darling with Olivia Wilde and Harry Styles. If she's not already, Pugh may become your next favorite actress. Let's take a look at a few major upcoming Florence Pugh movies and TV shows.
Hawkeye - Late 2021 (Post-Production)
Hawkeye is the upcoming Marvel TV Show that follows Clint Barton aka Hawkeye (Jeremy Renner) and Kate Bishop (Hailee Steinfeld). Marvel, like many of its previous Disney+ Marvel TV shows, is keeping much of the Hawkeye plot under wraps. However, it seems like the series will be a way to introduce Kate into the Marvel Cinematic Universe and expand her character in future films and TV shows.
In December 2020, Marvel and Disney announced several characters who will appear in the series. Florence Pugh's Yelena Belova was among the listed names. Marvel fans met Yelena in the Black Widow movie. If you watched the Black Widow post-credit scene, then you probably got a sense of how Yelena will tie into the Hawkeye series. The Hawkeye cast also includes Vera Farmiga, Fra Fee, Tony Dalton, Alaqua Cox, and Zahn McClarnon.
In December 2020, Marvel Studios announced that Hawkeye would premiere in "late 2021." No premiere date has been set yet, but filming wrapped in April 2021, so the late 2021 premiere aim still seems likely. I would guess that an October premiere date may happen, but wouldn't be surprised if it premiered as late as December.
Don't Worry Darling - TBD (Post-Production)
Olivia Wilde takes on her second feature-length directing duties with Don't Worry Darling. Wilde received a lot of praise for her directorial debut with Booksmart, so people have been anxiously waiting for her next film. Booksmart co-writer Katie Silberman will also be re-teaming up with Wilde for Don't Worry Darling.
The plot of Don't Worry Darling is, for the most part, being kept under wraps. It is described as a psychological thriller set in the 1950s. It follows a housewife Alice who starts to uncover dark secrets about her husband Jack. Don't Worry Darling has an a-list cast that includes Chris Pine, Gemma Chan, Kiki Layne, Nick Kroll, Timothy Simons, and Olivia Wilde.
Shia LaBeouf was originally attached to play the lead Jack but was replaced with Harry Styles. Variety reports that LaBeouf was allegedly fired for "poor behavior" that clashed with the cast and crew. Dakota Johnson was also originally attached in a supporting role but left due to a scheduling conflict. Florence Pugh plays the lead Alice.
Filming on Don't Worry Darling concluded in February 2021 and some images of the film have been shared by Wilde, but no official release date has been announced. New Line won a highly competitive bidding war for the project, so it seems like they'll want to release the film sooner rather than later, but we'll have to wait and see what's announced.
The Maid - TBD (Pre-Production)
In December 2020, it was announced that Florence Pugh would play the lead of the upcoming murder mystery The Maid. Universal Pictures will be producing the film based on Nita Prose's debut novel of the same name. Prose's novel has not been released yet. It makes its debut on January 4, 2022.
The story is being described as a combination of Gail Honeyman's book Eleanor Oliphant is Completely Fine and Agatha Christie's murder mysteries. The Maid follows Molly (who will be played by Pugh) as she starts to explore the dark secrets and murderous intentions of her clients.
Pugh will also co-produce the film with Josh McLaughlin and Chris Goldberg, with Prose acting as executive producer. Because The Maid book won't be released until January 2022, the film probably won't be released until at least mid-2022, if not later.
The Wonder - TBD (Pre-Production)
In April 2021, The Hollywood Reporter broke the news that Florence Pugh will be the lead of Sebastian Lelio's adaptation of The Wonder. The Wonder will be based on Emma Donoghue's novel of the same name. According to Digital Spy, the film will be made for Netflix.
The Wonder is a psychological thriller about an English nurse named Lib Wright. Set in 1859, the story takes place in the Irish Midlands and follows Lbi as she travels to a small village where she discovers a girl who can survive months without food. The 11-year old girl, Anna O'Donnell, becomes a major tourist attraction. A Journalist arrives to cover the story and it turns into a story of love against evil.
The Wonder still seems at the very early stages of development, so we probably won't find out a release date until late 2021, if filming has even started by the end of the year.
Good Person - TBD (Pre-Production)
Zach Braff will direct Good Person, which will likely be distributed by MGM. The film stars Morgan Freeman and Florence Pugh. Good Person follows Allison (Florence Pugh) as her life starts to unravel after a fatal accident. Years later, she forms an unlikely bond with her would-be father-in-law, played by Morgan Freeman. He teaches her how to live a life worth living.
According to Deadline, Good Person will go into production in fall 2021. This means the earliest that we would likely see a release date for this film is early to mid-2022.
Dolly - TBD (Announced)
AppleTV+ won a bidding war for the potential feature film Dolly. According to Deadline, Dolly hasn't been greenlit as of July 2021. However, if it does go into production, Florence Pugh, Vanessa Taylor, and Drew Pearce will star. Pearce will also write the script. Dolly is a story based on Elizabeth Bear's short story of the same name.
The film will be a combination of a courtroom drama and a sci-fi flick. Dolly follows a robotic "companion doll" who kills its owner but pleads not guilty. Since the project is currently in limbo on whether it will actually be made, we may have to wait a while before this one even begins production.
Untitled Madonna Biopic? (Rumored)
In January 2021, the Mirror reported that Madonna was considering Florence Pugh to play her in a future biopic about the singer's life. Apparently, Ozark's Julia Garner is the other major candidate. Madonna will direct the biopic and also co-write the script with Diablo Cody.
In June 2021, Entertainment Tonight (ET) spoke to Pugh about taking on the iconic role of Madonna, and of course, Pugh remained tight-lipped on the possibility but stated she would be excited to do the role. Madonna gets the final say on whether Garner, Pugh, or someone else takes on the role, but I can't wait to see who gets the role, and if it's Pugh, I know she'll be a great Madonna.
You can currently watch many Florence Pugh movies streaming through various streaming platforms, including Black Widow, which is available to watch on Disney+ Premier Access.
Your Daily Blend of Entertainment News
Spent most of my life in various parts of Illinois, including attending college in Evanston. I have been a life long lover of pop culture, especially television, turned that passion into writing about all things entertainment related. When I'm not writing about pop culture, I can be found channeling Gordon Ramsay by kicking people out the kitchen.