Annette Ending Explained: What Happened At The End Of The Leos Carax And Adam Driver Musical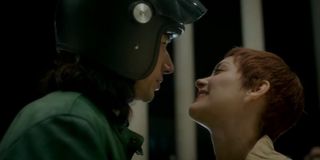 CinemaBlend participates in affiliate programs with various companies. We may earn a commission when you click on or make purchases via links.
Annette is French director Leos Carax's latest fantastical, satirical film. It stars Adam Driver and Marion Cotillard, with original music by Sparks. Driver and Cotillard play Henry McHenry and Ann Defrasnoux. The pair are nearly polar opposites, at least on paper. She's an elegant opera singer who makes everything sacred, and he's a brass "mildly offensive" comedian who finds nothing sacred. Their whirlwind romance reaches a dramatic boiling point after the birth of their daughter Annette (Devyn McDowell). This leads to the intense Annette ending.
Annette is one of those movies that has about five million things that deserve a deep dive. It could also be one of those films where some of the things that film writers and critics overanalyze actually have no deeper meaning. This adds to Annette's complexity. There are many things that I could and would love to talk about from the film, but I am going to explore the Annette ending. Let's start.
Warning: This post contains major spoilers about Annette.
What Happened At The End Of Annette
After murdering The Conductor (Simon Helberg), Henry publicly announces that Baby Annette will perform no more. She has one final performance at the Super Bowl Halftime, but she refuses to sing. She then tells the world that "daddy kills people." Henry is arrested and his trial begins.
He tells the judge that he can't tell the truth because he'll be killed if he does. Henry then expresses his regrets about killing Ann and succumbing to his rage and jealousy. He first sees her ghost as the Ann that was, then he sees the vengeful ghost form. She tells him that it will be the vengeful Ghost Ann that will haunt him for the rest of his life.
Some time has passed and Annette comes to visit him in jail. She confronts Henry about how he destroyed her life, made her turn to darkness, and give up singing. She also vows to forget him and her mother--who she also blames for her exploited childhood.
Henry pleads with her but she's facing her own inner turmoil of completely forgiving or forgetting her former family. She also tells Henry that he now has nothing to love. Annette's time runs out and leaves Henry in prison to ponder what he's done.
Baby Annette's Physical Transformation
Originally, Annette was going to be a concept album with the Sparks brothers carrying a toy doll while touring. Carax decided to employ that fake baby element in the film. It made more sense for Carax to use a puppet because he didn't want to use CGI and babies can't really sing. A puppet allowed the character to have life, even without flesh and blood.
We only see Annette in her puppet form for most of the movie, so when she becomes a girl at the very end, you need to readjust to this new reality. Henry notes that Annette "has changed." This is a nod to her physical transformation and emotional one as Henry has clearly been in prison for some time, and she's grown up more.
In an interview with Los Angeles Times, Carax explained why Annette turned from puppet to girl.
I think Annette becoming a human girl at this moment worked so well because, as Carax said, it's the big confrontation between Annette and Henry. It also fits because, throughout the film, Annette has been a metaphorical puppet as well. She's been exploited by her father and used to further scratch his own ego. The same can be said about Ann as well, which is why Annette's anger towards both of them is justified.
Both of Annette's parents cherish her because she's theirs, not necessarily for who she is, which becomes more apparent as she's a voiceless puppet until the end. I also think Annette suddenly goes from puppet to girl because Carax doesn't want the viewers to get too comfortable by knowing and expecting the film to be one way. He wants to shake things up one last time before the Annette ending.
The Final Performance Of Baby Annette And How She Stopped Singing
Upon my first viewing of Annette, I was a bit confused about how she could suddenly stop singing. Once I rewatched it, I realized that Annette covers her eyes to block out the lights. However, I think Annette's ability to stop herself from singing in this moment goes deeper. In this moment, Annette has lost the only person who unselfishly loved her, The Conductor.
Instead of allowing her father to continue to use her, she takes a stand and destroys him. There is a line with Ghost Ann where she says "I am no longer love, I am now revenge." I think this line also applies to baby Annette. In that moment, with the death of The Conductor, she lets go of all love for her father and only wants revenge. It's when her transformation from puppet to real girl begins.
The Final Fourth-Wall Break In Annette
Annette has several moments where it breaks the fourth wall. The more famous one is at the very beginning with the intro song "So May We Start." During the Annette ending, Henry glances at the camera and then tells it to stop watching him and turns around to face the wall. The final scene is of the puppet Annette and her ape doll on the floor.
Sparks and Carax make comments to the audience throughout the film, sharing their complicated relationship with the viewers (e.g. "'who will die for us? Will die for us? No one can take her place but you who despises us."). With his final words, Driver implies that the audience got their show of his misery and can now go away. It's similar to how Henry speaks to the audience in his comedy shows.
Interestingly, many are calling Annette an "anti-musical'' because it tries to disrupt many preconceptions about musicals. One of my favorite TV musical lines is "The curtains close on a kiss. God knows, you can tell the end is near." This line (to me) always gave a nod to traditional musicals.
Many musicals end with a kiss, a triumph, the hero learning his lesson--some sort of happy ending. This isn't always the case for rock operas, but it's kind of the standard people come to expect with musicals. So for Annette to not have that traditional musical ending, it once again gives the audience something unexpected.
In an interview with The New York Times, Carax spoke about the process of making a movie musical and summed it up this way:
Henry's Abyss In Annette
The final song in Annette is "Sympathy for the Abyss." In it, Henry is trying to give his daughter some advice to not make the same mistakes of jealousy, anger, and letting the ego control life. In this moment, Henry finally gets his mistakes, but it may be too late because Annette doesn't want to forgive him.
Though this isn't a traditional musical happy ending, it does offer some closure for the viewers. Because Henry does at least get some of the error of his ways, but it's made more somber when Annette tells him that he can't love her, not really, which I interpreted to mean that because of who he is, his narcissism and self-loathing, that he can't truly love anyone.
Annette is one of the best Adam Driver movies for his performance and the sheer ambition of the film.
Annette may be one of the most divisive 2021 movies (so far). It's definitely a movie primed for a strong cult following. Annette is a film that's not made for the masses, but will be consumed by them because of the nature of it being on a streaming platform, and having Adam Driver and Marion Cotillard as its stars, two of the most recognizable names across the globe.
Carax set out to make a movie experience like no other with Annette, and I think he succeeds. I think it doesn't matter if you loved or hated Annette, the film deserves some admiration because it chose to be different in a movie world full of reboots, remakes, prequels, sequels, and adaptations. Stream Annette on Amazon Prime.
Spent most of my life in various parts of Illinois, including attending college in Evanston. I have been a life long lover of pop culture, especially television, turned that passion into writing about all things entertainment related. When I'm not writing about pop culture, I can be found channeling Gordon Ramsay by kicking people out the kitchen.
Your Daily Blend of Entertainment News
Thank you for signing up to CinemaBlend. You will receive a verification email shortly.
There was a problem. Please refresh the page and try again.