Would Pierce Brosnan Play James Bond Again? The Actor Shares His Honest Thoughts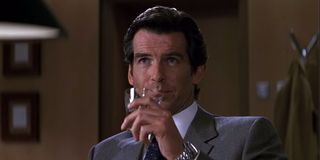 No Time To Die is almost here, and fans are getting even more excited to finally see what lies in store for Daniel Craig's 007 swan song. However, many are also now wondering who will be the next actor to take the reins as Bond. The producers of the franchise are still acting like they have no idea who's going to take over, amid a slew of new actors expressing interest in the role. But would former 007 Pierce Brosnan ever jump back into the role? Well, the actor has recently shared some honest thoughts on the matter.
Pierce Brosnan recently caught up with ReelBlend podcast host Jake Hamilton, during which he discussed his role in the recent Cinderella revamp and the possibility of playing James Bond once again. Brosnan was James Bond before Daniel Craig took over in 2006's Casino Royale, and the actor made a unique mark on the storied franchise. Brosnan was direct and honest when talking about a potential return, saying:
It would seem that Pierce Brosnan is not interested in making a return as James Bond and seems very content with his body of work. It's hard to blame him, given that his performances in those four Bond movies were received relatively well. The films, which varied critically, also did well at the box office, and their influence laid the groundwork for Daniel Craig's era. And of course, Brosnan has since gone on to do so many different types of other films since his years as 007.
For example, Pierce Brosnan is currently set to appear as Doctor Fate in Dwayne Johnson's highly anticipated DC movie, Black Adam. Brosnan also has other projects coming out, and he doesn't look like he is slowing down anytime soon. So all in all, it's probably for the best that he continue looking towards new projects for the future.
The search for the next Bond, in the aftermath of Daniel Craig's upcoming final outing, has everyone speculating about what direction the producers will go. Regé-Jean Page's name has been floated for months now, and he is still seemingly at the top of the odds list. Although, other actors are gaining some steam. It's a casting decision that won't be taken lightly, and the process will surely pick up after the release of No Time To Die.
It's honestly hard to say how things will pan out when it comes to the hunt for the next James Bond. The producers could switch things up by going with a person of color, which would be cool, especially since we now have a woman of color holding the designation of 007 in No Time to Die. But whatever the case, the actor is going to have big shoes to fill, as they will seek to follow in the footsteps of Pierce Brosnan, Daniel Craig and many others.
Movie and TV obsessive. A good Heist movie is the way to my heart. Enjoyer of everything from Marvel Movies to Rom-coms.
Your Daily Blend of Entertainment News
Thank you for signing up to CinemaBlend. You will receive a verification email shortly.
There was a problem. Please refresh the page and try again.