Spider-Man's Main Movie Villains, Ranked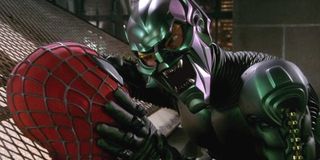 CinemaBlend participates in affiliate programs with various companies. We may earn a commission when you click on or make purchases via links.
They say that every hero is only as good as their villain, which is something I certainly believe to be true when it comes to superhero movies, especially. For example, Spider-Man is a brilliantly crafted character, but you could say that the entertaining and even thought-provoking portrayals of, say, Green Goblin or Vulture have much to do with why his best Marvel movies have worked.
That being said, how does Topher Grace's Venom compare to those characters? Let's break down that question and more by ranking all the Spider-Man villains from the movies so far, from our least favorite to our favorite, starting with one who is, arguably, the victim of missed opportunities.
14. Rhino (The Amazing Spider-Man 2)
Paul Giamatti had previously expressed interest in playing the Rhino before he was cast as the obscure villain in The Amazing Spider-Man 2, but only got to don his horned mech-suit at the very end of the movie. Perhaps we would be speaking more favorably about the Oscar nominee's manic, scenery-chewing performance had he be given more time to shine in The Amazing Spider-Man 3, which was the plan before the movie was cancelled.
13. Venom (Spider-Man 3)
Some people wish that Sam Raimi's Spider-Man 3 could have been cancelled, and former That '70s Show cast member Topher Grace's performance as Eddie Brock has been cited as one major reason why. While Tom Hardy's performance in 2018's Venom, especially, makes him pale in comparison, the character design is pretty spot-on and his sinister rivalry with Tobey Maguire's Peter Parker is serviceable as a motivation, especially after the symbiote begins to take control.
12. New Goblin (Spider-Man 3)
A vengeful vendetta against Peter Parker is also what motivates Harry Osborn (James Franco) to use his father's glider and pumpkin bombs as the New Goblin. While his time as the new villain is largely interrupted when he suffers amnesia, his arc in Spider-Man 3 works as a fitting evolution and conclusion for the character, even though I think I would have rather seen him officially adopt the Green Goblin moniker (like in the comics) instead of giving himself a new name.
11. Green Goblin / Harry Osborn (The Amazing Spider-Man 2)
However, Dane DeHaan's Harry Osborn becomes the only Green Goblin of Marc Webb's Amazing Spider-Man movies when a disease inherited from his late father changes him both physically and mentally after an injection of Spider-Man's blood speeds up the transformation process. I would argue that it works as a pretty unique take on the character's villainous motivations, but I also think I would have rather seen Norman Osborn (Chris Cooper) on the glider again, instead.
10. Electro (The Amazing Spider-Man 2)
In The Amazing Spider-Man 2, Harry Osborn's Green Goblin forms an alliance with Max Dillon (Jamie Foxx) after an accident turns the Spider-Man fan into a being pure electricity. Electro's character arc (a lonely nerd obsessed with the hero protagonist who suddenly becomes his enemy after gaining powers) was a bit overdone by then, but his visual design is striking and his powers are also striking in a more literal sense, making me excited to see what he brings to Spider-Man: No Way Home.
9. Doc Ock (Spider-Man: Into The Spider-Verse)
Speaking of Marvel Multiverse crossovers, in Miles Morales' (Shameik Moore) reality, Doc Ock is a woman named Olivia Octavius, voiced by future WandaVision cast member Kathryn Hahn. While we do not see very much of her or learn much about her in the animated Oscar winner, Spider-Man: Into the Spider-Verse, the reveal of her criminal alter ego was one of the most memorable moments of what some may argue is the best Spider-Man movie ever made.
8. Kingpin (Spider-Man: Into The Spider-Verse)
Another reason why Spider-Man: Into the Spider-Verse rules is its depiction of Wilson Fisk, voiced by Liev Schreiber. While Vincent D'Onofrio achieved a refreshingly grounded version of the ruthless crime lord called Kingpin on Netflix's Daredevil show, this truly larger than life depiction captures what makes this human such a powerful monstrosity in a more unique and enthralling way than anyone has ever seen.
7. Lizard (The Amazing Spider-Man)
Dr. Curt Connors, relegated to a few cameos by Dylan Baker in Sam Raimi's trilogy, actually does become a powerful monstrosity (and the central antagonist of The Amazing Spider-Man, as played by Rhys Ifans) after injecting himself with an experimental limb regrowth serum. As a former colleague of Peter Parker's (Andrew Garfield) late father, a mentor to the young prodigy, and a guy who just wanted his right arm back, Lizard is a Spidey villain you cannot help but feel empathy for.
6. Sandman (Spider-Man 3)
Empathy is easily the main reason why Flint Marko (Oscar nominee Thomas Haden Church) is the best villain in the overstuffed rogues gallery from Spider-Man 3. His arc as an escaped convict (charged with a robbery he committed to pay for his daughter's surgery) who becomes the shapeshifting Sandman after falling into an experimental particle accelerator is one of the polarizing sequel's strongest elements, even though retconning him as Uncle Ben's real killer feels a bit unnecessary.
5. Prowler (Spider-Man: Into The Spider-Verse)
Speaking of, Peter Parker's relationship with Uncle Ben in the live action Spider-Man movies is heartbreaking, but I would say Miles Morales' relationship with his Uncle Aaron (Mahershala Ali) in Spider-Man: Into the Spider-Verse is even more complex and investing. In fact, it is arguably even more heartbreaking when Miles finds out his uncle is an assassin on Kingpin's payroll called Prowler, whose refusal to kill Miles gets him murdered.
4. Mysterio (Spider-Man: Far From Home)
Even though fans could smell from a mile away that Quentin Beck (Jake Gyllenhaal) was lying when he claimed to be an interdimensional traveler in Spider-Man: Far From Home, the reveal that he was really a vengeful former colleague of the late Tony Stark with impressive special effects skills was a nice touch. Plus, the ways he visually and psychologically manipulates Peter Parker (Tom Holland) throughout and manages to reveal his superhero identity even after death (or so we think), makes this a stronger Mysterio on the big screen than we might have expected.
3. Green Goblin (Spider-Man)
I think we have Oscar nominee Willem Dafoe's performance in 2002's Spider-Man to thank for such a memorable big screen debut of Green Goblin. He essentially plays dual roles, channeling both sides of Norman Osborn's split personality in a way that some may call silly and over-the-top, but is the perfect amount of crazy for a comic book movie as unique for its time as this.
2. Vulture (Spider-Man: Homecoming)
While Michael Keaton could have done a great job playing Vulture with some of the craziness of his signature roles of the past, he rightfully employs a compelling and sometimes chilling earnestness in his performance in Spider-Man: Homecoming from 2017. His reason for selling weapons made from alien technology to provide for his family (including his daughter, Liz, who happens to be Peter's crush) after Tony Stark's demolition clean-up crew costs him a job are also hard to argue against.
1. Doctor Octopus (Spider-Man 2)
However, the one character in all the Spider-Man movies who most effectively embodies all the elements of a great comic book villain is Dr. Otto Octavius. Alfred Molina gives a stirring performance as the once-aspirational scientist (and personal hero to Peter Parker) who becomes Doctor Octopus and loses his loving wife in one horrible day, before turning to crime when the AI in the mechanical arms fused to his body begin taking control. His profoundly tragic arc is key to why most believe Spider-Man 2 is the strongest of the Sam Raimi trilogy.
It is no wonder why Alfred Molina's Doc Ock is also being resurrected for Spider-Man: No Way Home, if we are to assume that the film's intention was to incorporate the best villains from the Marvel hero's previous iterations. Of course, I still have my reasons for believing Rhys Ifans' Lizard is stronger than Jamie Foxx's Electro in the Amazing Spider-Man universe and there may even be some who would pick Dane DeHaan's Green Goblin over Willem Dafoe's character. Who do you believe is the top antagonist?
This poll is no longer available.
Jason has been writing since he was able to pick up a washable marker, with which he wrote his debut illustrated children's story, later transitioning to a short-lived comic book series and (very) amateur filmmaking before finally settling on pursuing a career in writing about movies in lieu of making them. Look for his name in just about any article related to Batman.
Your Daily Blend of Entertainment News
Thank you for signing up to CinemaBlend. You will receive a verification email shortly.
There was a problem. Please refresh the page and try again.