The Cord Cutter Podcast #31: Bright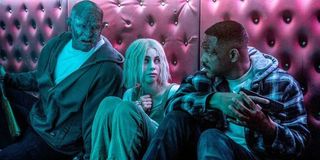 Welcome to the 31st edition of The Cord Cutter Podcast! Netflix has finally debuted its first big-budget (potential) blockbuster, Bright, and it's time for us to dissect it with the same fervor that Will Smith kills a fairy! This week, Mick, Adrienne and their guest, CinemaBlend's own Eric Eisenberg, will tell you everything you need to know about the action-fantasy film and whether or not it's worth your streaming time! Netflix has gambled big on Bright. The Will Smith and Joel Edgerton starrer had a $90 million budget, and the streaming service believes in the final product so much that a sequel actually got the go-ahead before the first film had even hit Netflix.
Now, we're here to go over all the details on Bright, and you can be sure that by the time we finish you'll have all the info you need on the new movie. Is Bright one of the best things that Netflix has ever done, or one of the worst? How does the fantasy world building match up with the story of two cops trying to stop an evil plot, which is the focus of the movie? What does Bright do right, and what does it do very, very wrong? Do fairy lives matter? Did director David Ayer really right the wrongs he made with Suicide Squad? And, just what the hell is up with that damn dragon, anyway? We'll talk about that, and much more! Ready to dive in? Great! Read on to get the lowdown on this week's podcast and then listen for yourself above!
1:24 - News!
9:26 - The Weekly Queue (Wormwood, Pottersville, The Toys That Made Us)
15:35 - Bright discussion begins!
17:20 - Overall opinion
30:15 - What kept you watching?
34:35 - Suicide Squad vs Bright
41:50 - The sequel
44:21 - Bright 2 potential plots
51:47 - Game Time! How Bright Are You?
Now, get in on the fun and have a listen to The Cord Cutter Podcast #31! Join us next time when we talk about some of the exciting new things coming to streaming in 2018! And, be sure to subscribe to The Cord Cutter podcast on iTunes, right here and follow us on Twitter through @CordCutterPod!
Bachelor Nation, Gilmore Girl; will Vulcan nerve pinch pretty much anyone if prompted with cheese...Yes, even Jamie Fraser.
Your Daily Blend of Entertainment News
Thank you for signing up to CinemaBlend. You will receive a verification email shortly.
There was a problem. Please refresh the page and try again.