HeroBlend #20: Heroic Predictions And Watchmen: The Ultimate Cut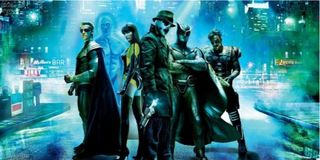 Welcome to HeroBlend #20! This week, Eric and Adrienne are excited to introduce you to two new segments, Heroic Predictions, where we throw out our best predictions for current superhero movies or TV shows, and Retro Review, where we see just how well a classic superhero film holds up. After a healthy dose of news, which will include some brand new information on DC Universe, some casting confusion involving Joaquin Phoenix's Joker movie, early Aquaman reactions, a Thanos fan theory and much more, we'll get right into this week's segments!
First us, of course, will be Five Minutes Under the Gunn. Now that Guardians of the Galaxy Vol. 3 has been delayed while the studio searches for a new director, we'll go over some big picture questions about Gunn and the franchise as a whole. Next, is Heroic Predictions, where Eric and Adrienne give you their wildest predictions for things that they think might happen in the world of superhero movies or TV, and then discuss how likely those predictions actually are. Last, we'll treat you to a Retro Review of _Watchmen: The Ultimate Cu_t. How has the film held up? Is the ending of the movie better or worse than the one in the comics? If you love blue, glowy dong in your movies, is there enough here to satisfy your cravings? We'll discuss all that and more! Sit back and relax, folks, because this is one chat you're not going to want to miss! Ready to dive in? Great! Read on to get the lowdown on this week's podcast and then listen for yourself above!
02:09 - DC Universe news
05:37 - Alec Baldwin's casting confusion in Joaquin Phoenix's Joker movie, explained
10:13 - Early Aquaman reactions
15:06 - New Thanos fan theory
17:46 - Recent Venom comic completely takes Spider-Man out of the equation
21:17 - New Young Justice: Outsiders clip
22:57 - Apparently women are really excited for Venom and Aquaman
25:02 - Five Minutes Under the Gunn
30:48 - Heroic Predictions
49:39 - Retro Review (Watchmen: The Ultimate Cut)
Now, get in on the superhero-filled fun and have a listen to the HeroBlend Podcast #20! And, be sure to subscribe to the HeroBlend Podcast on iTunes, right here and follow us on Twitter, @HeroBlend.
Bachelor Nation, Gilmore Girl; will Vulcan nerve pinch pretty much anyone if prompted with cheese...Yes, even Jamie Fraser.
Your Daily Blend of Entertainment News
Thank you for signing up to CinemaBlend. You will receive a verification email shortly.
There was a problem. Please refresh the page and try again.