15 Awesome Celebrity Reactions To Star Wars Day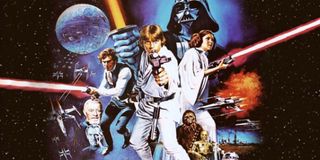 May the 4th is upon us! Once a year fans across the galaxies come together to celebrate the science-fiction franchise that changed everything. Star Wars has not only stood the test of time continuing to bring together generations, but this year is particularly special with the upcoming release of Star Wars: The Force Awakens.
May 4th has become universally recognized as Star Wars Day, not just because it has a nice ring to it. The month of May has always held particular importance to Star Wars fans as it is the release month of all six films within the saga. So today gives us the opportunity to profess our fandom loud and proud. And among those celebrating are some of our favorite celebrities from the Star Wars films and beyond. Take a look at the 15 best celebrity Tweets and Instagram photos from Star Wars Day, plus one little bonus Tweet.
Carrie Fisher otherwise known as Princess Leia teases her older age, but we don't care, we love Leia anyway.
And it was probably William Shatner who reminded Carrie Fisher what day it was.
Mark Hamill with the most adorable Tweet of the day.
Peter Mayhew gave fans a glimpse at an awesome new Hasbro product featuring his fan-favorite character.
And another from Mayhew because he just killed it on Twitter all day.
Anthony Daniels tries to use the force. Proves we all have crossed to the darkside.
Everyone's favorite Ewok, Warwick Davis chimed in with words of wisdom.
Neil deGrasse Tyson refuses to hold back his nerdom.
James Gunn has the absolute perfect fan art to share.
Zoe Saldana knows what she's watching tonight.
Ellen DeGeneres always knows how to insert herself seamlessly into a movie.
Chris Hardwick went to prom with R5D4. He has us all beat.
Oh and Seth Green is celebrating his day with Chewbacca, so he wins too.
Poor Darth Vader. Can't catch a break, or a Death Star.
NASA just taught the world that there's a real moon disguised as the Death Star.
And last, but certainly not least...here's Chewie made out of Bacon, because, why not?
Your Daily Blend of Entertainment News