Ashton Kutcher Just Revealed The Sex Of His And Mila Kunis' Second Child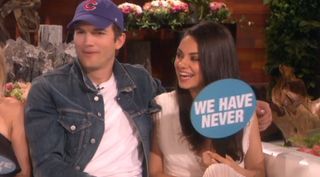 (Image credit: The Ellen DeGeneres Show)
Ashton Kutcher spilled the beans on the sex of his second child on Thursday. It sounds like Kutcher and wife Mila Kunis are expecting a baby boy as their second-born child.
Ashton Kutcher let the baby's sex slip while talking about parenting on the TODAY show Thursday morning. When asked if his two-year-old daughter Wyatt was aware that she was about to become a big sister, Kutcher said that she will point at Mila Kunis' pregnant belly and say, "baby brother."
Ashton Kutcher also talked about some of his apprehensions in raising two young children, admitting that he's "a little terrified" about how much more work dealing with two kids is going to be than just one.
Mila Kunis and Ashton Kutcher are expecting to welcome their new baby boy sometime in late November or early December. Kunis gave birth to their daughter Wyatt in October of 2014.
Ashton Kutcher and Mila Kunis first met in the '90s on the set of The '70s Show. Kutcher was just 20 when the show began, and Mila Kunis was actually only 14 years old, having told a white lie to the producers that she would turn 18 (she left out when exactly she'd be18). Though their characters on the show wound up falling in love with one another, Kutcher and Kunis never got romantic with each other in real life until long after the sitcom ended in 2006.
Both Mila Kunis and Ashton Kutcher entered long celebrity relationships that lasted much of the early 2000s. Kunis dated former child star Macaulay Culkin from 2002 until 2011, and Kutcher married Demi Moore in 2005, until they separated in 2011 and finalized their divorce in 2013. During Kutcher's divorce process, he and Kunis began their relationship. They got engaged two years later in 2014, and married in the summer of 2015.
And the happy That '70s Show news keeps on coming. Earlier this week, Ashton Kutcher and Mila Kunis' former costar Laura Prepon revealed that she got engaged. Prepon showed off her engagement ring at the premiere of her new movie The Girl on the Train, which she attended with her newly minted fiancé Ben Foster. A basement reunion is definitely in store for these '70s alums to chat about all this good news!
Your Daily Blend of Entertainment News