Khloe Kardashian Launches Good American Jeans Line, Includes Regular And Plus Sizes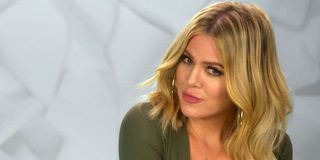 (Image credit: Keeping Up With the Kardashians)
Khloe Kardashian is helping women of all shapes and sizes find the perfect pair of blue jeans. The Keeping Up With the Kardashians star launched her new denim line Good American on Tuesday, the website for which features models of a variety of body types showing off her jean designs.
Khloe Kardashian's Good American denim line is notable for its inclusion of sizes larger than most boutique stores carry. Each item in the online store (opens in new tab) is available in sizes from 0 to 24, and the website shines a spotlight on a diverse group of models, known as the #GoodSquad. Customers also have the option to view photos of the jeans on a few different models, to get a sense of how the jeans might look on different body types.
In a statement on the Good American website, Khloe Kardashian shared her vision and motivation behind creating the line. Kardashian states that she and designer Emma Grede have both had trouble finding jeans that fit, so they made this line to solve that issue.
Though Khloe Kardashian's Good American denim line is being celebrated by many fans for its diversity and inclusivity, it has already gotten some criticism as well. A number of Kardashian's social media followers have responded to the website saying that the prices are exorbitantly high. The jeans available on Good American range in price from $149 to $189, which has angered a few potential customers.
What do you think? Are you willing to splurge a bit on Khloe's new jean line?
Your Daily Blend of Entertainment News
Your Daily Blend of Entertainment News
Thank you for signing up to CinemaBlend. You will receive a verification email shortly.
There was a problem. Please refresh the page and try again.