Brad Pitt Finally Saw His Oldest Son, Reportedly For The First Time Since The Angelina Jolie Split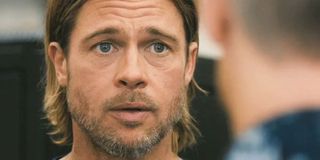 (Image credit: World War Z)
The tension is not only high between Brad Pitt and Angelina Jolie during their high-profile divorce proceedings --- it's also apparently wearing on their six children. In particular, adopted son Maddox Jolie-Pitt is said to be having a very difficult time seeing his father, having refused to attend two meetings with Brad Pitt that the other five children attended. But the two did reportedly reunite this week, for the first time since Brad and Angelina's split.
On Wednesday, the Jolie-Pitt children had another court-appointed meeting with their father Brad Pitt, and Maddox, being legally able to refuse since he is over the age of 15, declined to attend for the second time. However, E! News reports that Maddox did reunite with his father later that day with a therapist present. That was reportedly the first time that Maddox Jolie-Pitt has seen his father since the divorce proceedings began last month.
Reportedly, the argument that sparked the divorce was between Maddox Jolie-Pitt and Brad Pitt on a private plane on September 14. Sources told E! News that it was a typical argument for a father and son to have, but apparently it was the tipping point for Angelina Jolie, who filed for divorce five days later. Since the divorce news went public, Pitt has seen his other five children twice in supervised meetings.
In some sense, it would make sense that Maddox Jolie-Pitt is the child most at odds with father Brad Pitt. Not only is he the oldest of the six, but he's also the only child to have been raised for years by Angelina Jolie alone, before she entered a relationship with Pitt in 2005. Jolie adopted Maddox in 2002 from an orphanage in Cambodia when he was seven months old. At that time, Jolie was still married to Billy Bob Thornton, but the pair suddenly separated just three months after Maddox's adoption went through.
It wasn't until Maddox Jolie-Pitt was about three or four years old that Angelina Jolie first met Brad Pitt on the set of Mr. and Mrs. Smith in 2005. Though Pitt was still married to Jennifer Aniston at the time, it was widely reported that it was while filming the sexy spy thriller that he and Jolie began dating. That same year, Pitt traveled to Ethiopia with Jolie to accompany her as she adopted her second child, six-month-old Zahara Marley. In 2006, Brad Pitt adopted both Maddox and Zahara, and their surnames were changed to Jolie-Pitt. Jolie adopted one more son in 2006: Pax. Jolie adopted seven-year-old Pax as a single parent due to Vietnam's adoption regulations restricting unmarried couples from co-adopting, but Brad Pitt later adopted Pax as well once back in the United States.
The couple also has three biological children: ten-year-old Shiloh Jolie-Pitt, and eight-year-old twins Knox and Vivienne Jolie-Pitt.
Your Daily Blend of Entertainment News