How Kim Kardashian Is Dealing With Kanye West's Hospitalization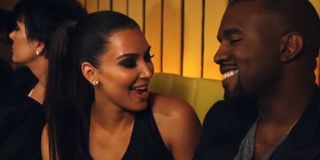 (Image credit: Keeping Up With the Kardashians)
It's been a really rough two-month period for Kim Kardashian and Kanye West. While news of Kardashian being robbed at gunpoint in Paris was still relatively fresh, Kanye West was checked into a hospital on psychiatric hold after reported erratic behavior. But the couple is dealing with their struggles by staying closer together than ever.
Ever since Kanye West was checked into UCLA last week, Kim Kardashian has apparently spent all of her free time by his side to help nurse her husband back to his former self, Us Weekly reports. A source close to the couple says that Kardashian spent Thanksgiving in the hospital with West, and that she's made sure her husband gets enough rest and is not disturbed by too many visitors while he recuperates.
And some quality time with his wife might just be the exact medicine that Kanye West needs. According to PEOPLE, a big reason why West was driven to the hospital in the first place was likely the fact that he was away from Kim Kardashian for so long. Apparently, Kardashian is a huge help to West whenever he starts to freak out on the road. Kardashian was supposed to join West on his Saint Pablo tour, but stopped coming to the shows after her traumatic robbery in early October.
Kanye West cancelled all of his remaining tour dates --- 21 shows that were scheduled to continue through the end of 2016 --- last weekend. His final show saw the rapper tear into an incredibly long rant, during which he decried his waning friendship with Jay Z and Beyoncé and got political by saying he would have supported Donald Trump in the presidential election had he voted, before he left the stage after performing only three songs. A couple of days later, West was allegedly taken into UCLA on a psychiatric hold after reports that he got aggressive towards a member of his staff while at the gym. West's physician cited dehydration and exhaustion as the cause of a temporary psychosis.
And Kim Kardashian probably did not have to cancel too many plans to rush to her husband's side in the hospital. The reality star has uncharacteristically stayed out of the public eye for nearly two months since her robbery in Paris. Kardashian was actually scheduled to appear at a gala in New York honoring her late father Robert Kardashian last week, but immediately flew to the west coast instead to be with West after news of his hospitalization broke. Here's hoping some much needed private time with one another can cure all that ails them.
Your Daily Blend of Entertainment News