Michelle Williams On Heath Ledger's Death, 10 Years Later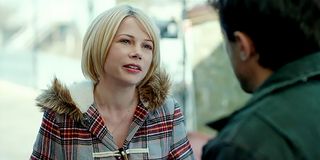 (Image credit: Manchester by the Sea)
Time is not making the untimely passing of former boyfriend Heath Ledger any easier for Michelle Williams. The actress opened up about how her life has changed since Ledger's sudden passing almost a decade ago.
In a new cover story for Porter magazine, Michelle Williams admits that she still has a hard time when it comes to thinking about Heath Ledger's death, particularly in terms of the couple's 11-year-old daughter Matilda Ledger. Williams says that she can usually accept the struggles that life presents, but knowing that her daughter will grow up without a father breaks her heart.
Michelle Williams and Heath Ledger began dating in 2004 after meeting on the set of Brokeback Mountain, in which they played husband and wife. Though married in the film, the couple never wed in real life, but remained together for three years before splitting up in 2007. In that time, they also gave birth to daughter Matilda Ledger. Ledger was suddenly found dead at the beginning of 2008, at only 28 years old, from a combined drug intoxication.
Since Heath Ledger's death, Michelle Williams has mostly kept to herself. She dated director Spike Jonze throughout the end of 2008 and 2009 before breaking up, and has since focused on raising her work as an actress and on raising her daughter. Williams spoke about how bizarre it is to be dating again as a single mother, and her apprehensions towards marriage.
Instead of looking for the right guy, Michelle Williams is seeking out the right roles. She is already generating Oscar buzz for her part in the recently released drama Manchester by the Sea, and earlier this year was up for the Best Actress Tony Award after starring in the gritty stage production Blackbird.
Though it's been almost ten years since Heath Ledger's death, he's still a huge part of Michelle Williams' life through their daughter.
Your Daily Blend of Entertainment News
Thank you for signing up to CinemaBlend. You will receive a verification email shortly.
There was a problem. Please refresh the page and try again.