There's A Whole Instagram Dedicated To Nipple Closeups And Yes, It's Weird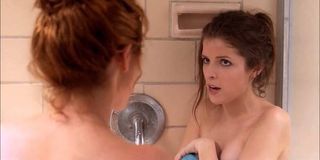 One very strange Instagram account may look frivolous, but it's actually working to make an important change in how censorship in social media should be handled. And it is making its point one nipple at a time.
The Instagram account Genderless Nipples is taking a stand against Instagram's controversial nudity guidelines by filling its page with close-up shots of nipples. The beauty of the account is that the photos it shares are taken so close up, that it's pretty much impossible for anyone to tell which of the nipples belong to men, and which belong to women. Because Instagram's nudity clause specifically bans female nipples and not male ones, the app hasn't been able to assuredly delete only the prohibited nipples from the several photos that Genderless Nipples posts each week.
The Instagram account is in line with the Free The Nipple movement that's grown in popularity on social media in the past couple of years. The basic tenets of the online platform of the movement are illustrated in Genderless Nipples' account description, in which the account's owners express their frustration that men face no restrictions from Instagram for posting photos of their nipples but women receive backlash for doing the same.
Celebrities like Miley Cyrus, Rihanna, and Chelsea Handler have all posted topless photos on Instagram and spoken out about their outrage at the site deleting them. These stars and other members of the Free The Nipple movement have expressed confusion as to why the female nipple is sexualized whereas the male nipple is not.
The Genderless Nipple account has been posting since early December (although it appears from the account's first post that its previous account had been deleted), and it didn't take long for them to achieve their goal of tricking Instagram. After Instagram took down a photo from the account of a male nipple, the account shared a screenshot of the take-down notification and revealed the truth.
And in case any of you guys or gals wants to be a part of the Genderless Nipples account, they've uploaded a little cheat sheet on how they want their participants to submit their nipple photos. Now that it has a whopping 56,000 followers, Genderless Nipples may wind up being the account that finally changes Instagram's policy.
Your Daily Blend of Entertainment News
Your Daily Blend of Entertainment News
Thank you for signing up to CinemaBlend. You will receive a verification email shortly.
There was a problem. Please refresh the page and try again.