Kim Kardashian Brings A Bit Of Glam Back To Her Instagram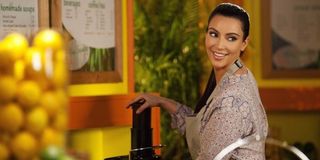 The Kim Kardashian we all know and love is finally back in full form on social media. After about three months of staying off all of her social media accounts following her robbery in Paris, Kardashian returned to Instagram earlier this month with a new family-focused aesthetic. But this week Kardashian finally returned to her glamorous, jet-setting lifestyle and posted the pics to prove it.
Fans can thank Kim Kardashian's recent trip to Dubai for the reality star's return to her usual, glam social media presence. Kardashian set flight for the luxurious city last week to make her first official business appearance since her robbery in early October. Sharing a photo of herself sipping on some coffee and looking gorgeous in a private jet, Kardashian made note of her long-awaited return to her jet-setting lifestyle by captioning the shot "Home Sweet Home."
While Kim Kardashian did have some fun on her trip, it was business first when she landed in Dubai last Thursday. Kardashian joined her friend and make-up artist Mario Dedivanovic on stage for his Master Class tutorial on applying make-up. TMZ reported that the event was packed with fans, who watched as Dedivanovic showed off his make-up prowess on Kardashian's face.
After she was done with work, Kim Kardashian had a bit of fun by driving around the desert in a dune buggy.
Though Kim Kardashian has been posting her Dubai pics throughout this week, she's actually been back in the United States since Monday. The reality star got back to the U.S. after spending the weekend in Dubai, and her first order of business was to meet up for lunch with Naomi Campbell, E! News reports. Just a couple weeks ago, Campbell had shared her own Paris robbery story on the Wendy Williams Show and talked about her friendship with Kardashian and the empathy she feels for her after her own traumatic robbery at gunpoint.
Thankfully, things are looking up for Kim Kardashian getting her justice. Last week, the Paris police department arrested 17 people whom they suspected of being involved in Kardashian's high-profile robbery. By the end of the week, four suspects were charged, and later Us Weekly reported that an additional six had been charged, making the total ten.
Kim Kardashian's account of the traumatic robbery has also come to public attention this week. A French newspaper printed her account of what went down in that Paris hotel room on the early morning of October 3. Kardashian recalled that two masked men tied her up, taped her mouth shut, and made off with millions of dollars worth of her jewelry. Kardashian described the men as "inexperienced," judging from how they tied her.
From these glamorous recent pics, it doesn't look like Kim is missing those jewels, nor is she letting that robbery keep her down.
Your Daily Blend of Entertainment News
Your Daily Blend of Entertainment News
Thank you for signing up to CinemaBlend. You will receive a verification email shortly.
There was a problem. Please refresh the page and try again.