Michelle Williams And Busy Philipps Look Like They Had A Blast At The Oscars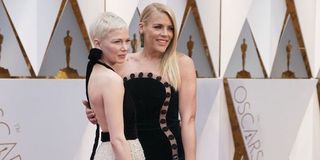 Michelle Williams may not have gone home with an Oscar on Sunday night, but she did get some quality time with her bestie Busy Philipps. The famous friends have been attending all of the major awards shows together this year, and the Oscars were no exception.
Busy Philipps made sure to upload a bunch of the best shots of Michelle Williams and herself from the big night to her Instagram, ranging from their tradition of taking bathroom selfies, to celebrity photobombs, and of course their reaction to that huge Best Picture mix-up!
The gal pals showed off their gorgeous, matching black-and-white gowns while holding hands in a full length shot, but of course Busy Philipps added some humor in there by mentioning how hungry they were getting for the In-N-Out burgers that Vanity Fair was serving at their after party.
The awards show tradition of Michelle Williams bringing her former Dawson's Creek co-star Busy Philipps as her date has been going on for the past few months --- the pair also arrived together at the Critics Choice Awards and the Golden Globes. Williams was nominated for her performance in Manchester by the Sea at all of those awards shows, and she started a tradition with Philipps of taking selfies in the bathroom at each of the ceremonies. They posed in front of the ladies' room mirror at both the Critics Choice Awards and the Golden Globes, so of course they had to keep the tradition alive at the Oscars!
Though Busy Philipps wasn't nominated for an Oscar this year, her friendship with Michelle Williams got her a front row seat to the biggest awards show of them all. The pair was surrounded by celebs, including Salma Hayek, who hilariously crashed a photo of the two.
And of course, that front row seating meant that both Michelle Williams and Busy Philipps got to see that crazy Best Picture mistake up close, right when it happened! Philipps post the now-viral photos of herself and Williams reacting in shock to the Best Picture award being mistakenly given to La La Land instead of Moonlight, along with tons of other celebrities like Ben Affleck, Salma Hayek, Meryl Streep, Dwayne Johnson, and Matt Damon. In the caption, Philipps revealed that her friends won't stop texting her the photo of her surprised face at that moment.
I'm sure that moment was a pretty magnificent way for Busy Philipps and Michelle Williams to end their run of awards shows together for this year. I just hope Philipps or Williams stars in another critical darling in 2017 so we can see their adorable friendship take on another awards season next year!
Photo credit: ABC
Your Daily Blend of Entertainment News
Your Daily Blend of Entertainment News
Thank you for signing up to CinemaBlend. You will receive a verification email shortly.
There was a problem. Please refresh the page and try again.