RuPaul Secretly Got Married Earlier This Year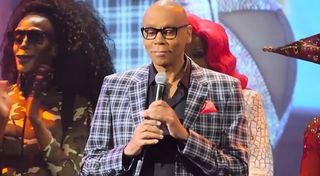 Gentlemen, start your engines, and may the best marriage win!
It seems like secret weddings are en vogue this year. On the Wednesday, March 15 episode of Hollywood Today Live, supermodel drag queen and media mogul RuPaul made a huge revelation. Hosts Ross Mathews and Amanda Salas were floored to learn that the American treasure and his longtime partner, Georges LeBar, tied the knot earlier this year.
Ross Mathews, who also works at the judge's desk on the Emmy-winning RuPaul's Drag Race, began a discussion about getting to know RuPaul better through his social media posts. Amanda Salas continued the conversation to talk about recent paparazzi sightings of RuPaul and his beau.
Without using any labels like "boyfriend" or "partner," RuPaul confirmed that he and Georges LeBar began their relationship 23 years ago. RuPaul and show business go together like Michelle Williams and Busy Philipps, but LeBar is not so interested in the spotlight. RuPaul talked about LeBar's lack of interest in show business.
RuPaul described his experiences of visiting Georges LeBar's ranch, which sits in both Wyoming and South Dakota. Ross Mathews wondered if RuPaul in Wyoming would be the best sitcom ever, and RuPaul agreed, saying he dresses up in gorgeous Western wear when he visits the ranch. (Do you think Kevin Costner needs costume ideas for his upcoming Western?) RuPaul explained that he and LeBar prefer to go to fabulous vacation destinations like Maui or New York when they have a chance to do something fun. Then Mathews switched gears to ask about marriage.
RuPaul paused with a breath before coming clean about the fantastic news.
RuPaul reflected with truth in jest.
The unplanned announcement was met with cheers from the hosts and crew. Ross Mathews joked about not knowing the details and handed RuPaul a bouquet of flowers from the set.
After the show, Ross Mathews and Amanda Salas asked RuPaul excellent questions like what song he would choose if he had to lip-sync for his life (the original lip-sync battle). He didn't say Beyoncé, but you know RuPaul could run the world better than this newlywed performance. The hosts also asked how he keeps his skin looking so fresh every single day and whether he would collaborate with RuPaul's Drag Race guest judge Lady Gaga. You can find out in the video below.
Congratulations, RuPaul and Georges!
Your Daily Blend of Entertainment News
Your Daily Blend of Entertainment News
Thank you for signing up to CinemaBlend. You will receive a verification email shortly.
There was a problem. Please refresh the page and try again.