So, Dave Franco And Alison Brie Got Married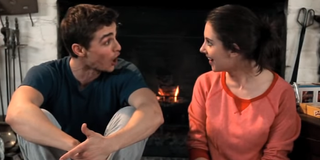 Actors Dave Franco and Alison Brie have managed to keep their relationship relatively private, so it may come as quite a surprise to some to learn that they were even an item. But not only are they the real deal, the talented couple have apparently tied the knot.
Representatives for the two stars confirmed reports by People magazine that Alison Brie and Dave Franco have married. However, the representatives did not share specific details about the wedding, such as where or when the ceremony took place.
Brie and Franco first met at a Mardi Gras parade in New Orleans in 2011, and they became engaged in August 2015. Brie's classy engagement ring was a rose gold sparkler with a rose-cut diamond and a diamond pave, according to People. The ring was a one of a kind piece from Irene Neuwirth, a jewelry designer based in Southern California.
Brie may be best known for her roles as Annie Edison on Community and Trudy Campbell on Mad Men, while people recognize Franco for tearing up the big screen in blockbusters like Nerve and Now You See Me 1 and 2 (and hopefully 3). Both stars seem super down to earth. Who could forget when Dave Franco had fun blindfolding a CinemaBlend reporter while promoting Nerve last year? And lest we forget Alison Brie's story about the wardrobe malfunction she had on the set of Mad Men?
In December, Dave's older brother, James, suggested to The Late Show with Stephen Colbert that Dave and Alison would marry in early 2017. But in January, Alison gently dismissed the news through a smile and a laugh when E! News asked her about it at the Sundance Film Festival.
At the same event, Dave gave a lighthearted response in solidarity with his at-the-time fiancée's answer.
But now everything has come full circle. Brie may have known a thing or two about How to Be Single, but now she and Franco can have fun practicing how to be married.
The news of Alison Brie and Dave Franco's marriage arrived on the heels of a big moment for the newlyweds---the premiere of the film adaptation of Greg Sestero's non-fiction book The Disaster Artist, which features both actors. The duo joins Franco's big brother, James, who directed and produced the film in addition to starring in it. The supporting cast is a knockout with big names like Bryan Cranston, Josh Hutcherson, and Seth Rogen. The plot comes from Sestero's experience directing the 2003 cult film The Room. The Disaster Artist opened to positive reviews at the annual South by Southwest film festival in Texas.
So, it seems love is in the air for everyone. Congratulations, Alison and Dave. All the best, love birds!
Your Daily Blend of Entertainment News