How Chris Pratt Feels About Getting Shamed For Losing Weight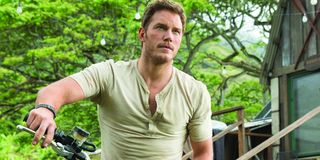 This month, the star of Passengers and Guardians of the Galaxy 2 Chris Pratt was busy taming velociraptors again on the set of Jurassic World 2, which is scheduled to hit theaters in the summer of 2018. Between filming scenes, the comical action star shared a series of video clips he called #WHATSMYSNACK to talk about the low-calorie foods that helped him keep his hard-earned physique in tip-top shape on the set. After posting the final clip in the series, Pratt posted "a current selfie" that makes us laugh but also offers a tiny glimpse into the handsome actor's feelings on getting body shamed by the internet. Check out the picture below:
It was a riot to watch Chris Pratt's adventures in dieting via Instagram. While each clip in the #WHATSMYSNACK series was hilarious, some of the low-calorie snacks that Pratt posted about did raise a few eyebrows. For example, one evening, he surrendered to hunger and ate something called an olive oil pistachio cake. Sure, some of the snacks seemed fine. There was an apple. There was sashimi, which he compared to cat food and fish bait. But other small meals, like a cacao baobao banana shake, sounded unusual.
Chris Pratt's weight has fluctuated since he began acting in 2000. Many people got to know him as goofball Andy Dwyer on Parks and Recreation. During the first few seasons of the show, Pratt carried some extra pounds before famously dropping the weight before filming the action-packed blockbusters Guardians of the Galaxy, Jurassic World, and The Magnificent Seven. So, Chris Pratt does know a thing or two about gaining and losing weight in the public eye, and one could argue that there is a tiny element of truth in his post.
Here's more of what the actor had to say:
It's true that body shaming is a serious issue these days. People in the spotlight have to combat comments from those who wish to shame them about their looks, and body shaming is aimed at women in higher rates than men. Lady Gaga had to shut down body shamers earlier this year after she put on a fabulous Super Bowl Halftime Show. Even Gal Gadot, Wonder Woman herself, had to say something after body shamers tried to put her looks on blast. So, the subject certainly is on the mind of society these days.
But let's not get too real. Chris Pratt's post was all in good fun, and it had us laughing hard. Chris, we know you are on a strict diet at the moment, but if you decide to take a cheat day, feel free to join us for some of that new Butterbeer ice cream we posted about earlier this week.
Your Daily Blend of Entertainment News