Emmy Rossum's The Latest In String Of Celebrity Robberies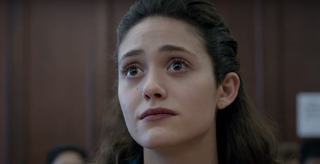 There has been a terrifying string of high-stakes robberies in Hollywood in recent times, and now the criminals have gone shameless, so to speak. Sometime between Wednesday and Friday of last week, while Shameless star Emmy Rossum was in New York City, thieves targeted her Los Angeles home and made off with a hefty amount of valuable belongings. Details surrounding the story continue to trickle in, but here is what we know right now.
Law enforcement sources close to the case told TMZ that Emmy Rossum's housekeeper left the home in a safe condition on Wednesday of last week. However, the housekeeper returned to a frightening scene on Friday. The power to the house had been shut off. Glass from a glass pane at the back of the house was shattered across the ground, which indicated a forced entry. Inside the house, the housekeeper discovered Rossum's two safes had been left wide open and emptied of the expensive antique jewelry they contained. The celebrity news website added that Rossum may have left herself somewhat vulnerable because she kept the combinations somewhere near the safes.
After the incident, a spokesman for the Los Angeles Police Department confirmed that thieves swiped $150,000 of possessions from a house in the Los Angeles district of Beverly Park during the timeframe we mentioned earlier, but the LAPD did not at the time name Emmy Rossum as the victim. However, Rossum herself acknowledged the incident on Twitter by sharing a message of gratitude for the officials who assisted her during the aftermath of the robbery. Here is what she had to say:
As we mentioned, Emmy Rossum is the latest celebrity to become the target of a recent string of robberies. Earlier this month, someone stole thousands of dollars in jewelry from a safe at the home of Kendall Jenner. Last month, Nicki Minaj found herself in a similar situation when burglars broke into her home and vandalized it before stealing $200,000 of jewelry. Days before that incident, Alanis Morissette was the target of a burglary that resulted in the loss of $2 million in jewelry, news that arrived on the heels of Morissette's former business manager admitting in court that he had stolen almost $5 million from her. And who could forget the well-documented robbery at gunpoint that Kim Kardashian endured last October during Paris Fashion Week?
Of course, we hope Emmy Rossum can retrieve the stolen valuables. Moreover, we hope she and everyone in Hollywood can take stock of their security. It is disappointing to hear that the Rossum incident might have been preventable if the safes, not to mention the combinations, had been tucked away in a better spot. That piece of information in no way means it is Rossum's fault, but it could be a helpful reminder for everyone to take extra precaution. Hopefully the authorities will bring the thieves to justice.
Your Daily Blend of Entertainment News