Kim Kardashian Shares Another Great Vintage Family Photo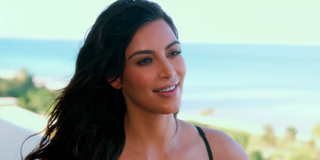 On Monday, Kim Kardashian posted a vintage family photo to Instagram. The lovely picture showed an infant Kim with her toddler sister, Kourtney Kardashian. Parents Kris Jenner and the late Robert Kardashian hold the girls in the charming photo, which is plucked out of 1980-something. The post received more than 1 million likes on Instagram.
It seems the photo is one of several throwback family photos on Kim's mind these days. When you consider the turbulent time Kim experienced last year, it makes complete sense that she would want to concentrate on the important things in life. Since Kim returned to social media last month, many of her posts have been in the family-centric category. For example, last week Kim posted a photo of herself at age 19 with her sister Kourtney in a cowboy hat.
Earlier last week, Kim posted a classic throwback photo of herself and Kourtney at ages 9 and 10. One of their two friends is even rocking the ever-so-popular boxers as shorts trend from the 90s. The photo goes to show that Kim has been flipping her signature long hair for years.
Two weeks ago, Kim posted a heartwarming picture from her first day of school. Kim is joined in the picture by Kourtney and Robert Kardashian. Kim posted the picture to commemorate her late father's birthday. How cute are the girls with their matching overalls and colorful lunchboxes?
It makes us happy to see Kim remembering the good times. We love to see her sprinkle cheerful family memories into her mix of selfies and adventure photos in places like Costa Rica. But of course we'll take photos of daughter North, son Saint, and power-couple kiss images with husband, Kanye West.
Your Daily Blend of Entertainment News