Kim Kardashian Shared The Ultimate Retro Squad Photo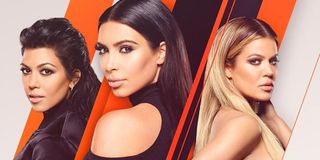 Kim Kardashian has posted another throwback 1980-something photo to social media. This particular image shows Kardashian with a very special squad: her ultra-famous family. We know that the Kardashian family was super tight even back in the day. But who would have known they would eventually become one of the most powerful families in Hollywood? Take a look at the photo here:
Sitting on the far left side of the picture is the supreme monarch of all momagers, Kris Jenner, back when she was still Kris Kardashian and donning that powerhouse 1980s perm. Jenner holds infant Rob Kardashian, and to their right sits eldest-sibling Kourtney Kardashian. In the photo, Khloe Kardashian sports long curly hair and a big white bow and sits on the knee of her father, the late Robert Kardashian, who achieved recognition during the O.J. Simpson trial in 1995. Last, but certainly not least, a young Kim Kardashian flanks the group while striking one of her signature diva poses in a cute Alice-in-Wonderland-style outfit. Of course, this image comes from the vault of photos taken before the Kardashian kids added to the mix the company of their famous half-siblings, supermodel Kendall Jenner and teenage entrepreneur Kylie Jenner. Still, even without the additional siblings, this retro squad photo is tops.
Kim Kardashian has been back in the public eye more lately, and this past Sunday's episode of Keeping Up with the Kardashians, Kim Kardashian explained the frightening details of what happened to her on that fateful day last October when armed assailants attacked her at her hotel in Paris. Kardashian stepped away from social media for a while in the wake of that incident, and since returning to her online presence, the reality show queen has taken fewer location-sensitive photos and magnified the family-first flavor of her social media posts. She has taken to Instagram and Twitter to post numerous throwback photos of her famous parents and siblings, as well as her husband and children.
Kim Kardashian's brand would not be complete without an array of selfies in luxurious moments. But as Khloe Kardashian, who recently returned to her maiden name after her divorce from Lamar Odom, explained to Ellen DeGeneres last year, what happened in Paris has, in some regards, encouraged the family members to dial back the public display of lavishness. Even Kendall Jenner experienced that the hard way last week when somebody stole jewelry from her home.
You know, people toss a lot of grief toward the Jenners and Kardashians, but nobody can deny how close they seem to be. When you put together a group of people with big personalities, there is bound to be conflict from time to time, so it is refreshing to see a family of stars stick together through thick and thin. We love to see the personal side of their lives, and we hope Kim Kardashian keeps the happy memories coming.
Your Daily Blend of Entertainment News
Thank you for signing up to CinemaBlend. You will receive a verification email shortly.
There was a problem. Please refresh the page and try again.