Why You Don't Know Kylie Jenner, Even If You Think You Do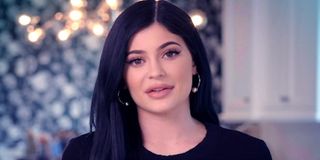 Think you know everything about Kylie Jenner? The 19-year-old businesswoman and reality television personality says otherwise. Despite being one of the most famous teenagers in the world, Jenner suggests the persona of the kid who grew up on Keeping Up with the Kardashians is not the best portrayal of her. Now Jenner is embracing a spotlight all her own with a new reality television series, Life of Kylie. In advance of the show's debut, Jenner is talking about the person behind Kylie Jenner the star, and it's not someone her fans would recognize...
If the trailer for Life of Kylie is any indication, Kylie Jenner wants to shed some of the images she created on the show that made her famous at the ripe old age of nine. In fact, the young entrepreneur indicates her show will not be yet another Kardashians spinoff. Instead, Jenner describes it as a form of therapy for her, which suggests she will talk about personal issues as a young person in the Hollywood limelight today.
Of course, Kylie Jenner has built a lucrative identity partly separate from her famous family. She has entrepreneurial ventures in fashion designs, hair extensions, lipstick lip kits and cosmetics, and smartphone apps. She has an enormous following across social media. She seems less invested in modeling than her supermodel sister, Kendall Jenner; however, Kylie Jenner still knows how to work the camera. She has mentioned being interested in acting, and now she has a TV show. Leaping from one activity to another keeps Kylie Jenner on her toes. But here is what she says regarding the need to strike while the iron is hot:
The "not totally innocent" aspect of that statement is not clarified by the trailer, but it might be the most intriguing aspect of the whole spectacle. Is Kylie Jenner having an emotional, down-to-earth epiphany about the superficiality of it all? Or is this a mere example of editing to take words out of context? You can watch the entire trailer here:
So, it seems like Kylie Jenner wants a different image from what her elder sisters--Kourtney, Kim, and Khloe--portrayed at the start of Keeping Up with the Kardashians. Somehow, the youngest sibling in the Kardashian-Jenner jamboree seems cool and collected in a way all her own. But we already knew that, so we'll have to see what she reveals to surprise us.