Kylie Jenner Dressed Like Barbie, And Pink Is So Her Color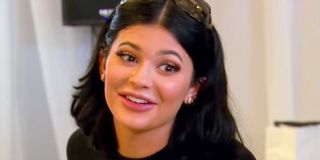 It is no secret Kylie Jenner is a California babe. Now the 19-year-old reality television personality has taken it to the next level and turned into a real-life Barbie doll. Recently, an image of of Jenner went up on social media in which she looks just like the iconic toy ready for some fun in the Malibu sun. The result is colorful, confident, and sexy. Check out the picture here:
Flaunt Magazine posted the image to Instagram, the social media site that listed Kylie Jenner among its top ten most-followed people last year. The Barbie image was part of a series of pictures from a photo shoot with a Barbie doll theme. Stylist to the stars Jill Jacobs styled the shoot and gave Jenner an image fit for a Mattel toy, while fashion photographer Brendan Forbes shot the pictures for the magazine.
The long, icy-blonde wig gives Kylie Jenner an entirely new vibe. The hot-pink one-piece bathing suit has a high cut worthy of Baywatch. We love how Jacobs accessorized Jenner with long, diamond-encrusted earrings with peace signs at the ends--something we imagine Barbie would totally do. The bold, expressive makeup is the perfect way to complete this glamorous Barbie doll look.
It seems like this look is part of Kylie Jenner's efforts to step into the spotlight. Last month, E! revealed it has a new show in the works for Jenner called Life of Kylie. The new show will focus on what the youngest sister in the Kardashian-Jenner tribe is up to in Hollywood. Although Jenner has made a name for herself with entrepreneurial ventures in lipstick lip kits, hair extensions, fashion, smartphone apps, and so on, this particular show marks the first time people will see Jenner as a star separate from her famous family members and their reality television shows.
A character as iconic as Barbie is not an easy feat to pull off to this degree. However, this is not the first time that the Keeping Up with the Kardashians star has done a great job of paying tribute to her idols in a costume. Last Halloween, Kylie Jenner looked spot on when she dressed up as Christina Aguilera in the singer's Dirrty video. Plus, Jenner herself knows a thing or two about having an iconic look. For example, it was not long ago people were trying to do the "Kylie Jenner Challenge" to suck on a shot glass and make their lips big like Jenner's medically augmented lips.
If this photo is any indication, Kylie Jenner is ready to dive in and make a splash with her new show. As an entrepreneur, Jenner is a lot like Barbie. She works hard. She wears many hats in her career. And she looks great doing it all. Let's see what she does next.
Your Daily Blend of Entertainment News