Blake Lively Let Her Sisterhood Of The Traveling Pants Co-Star Drink Her Breastmilk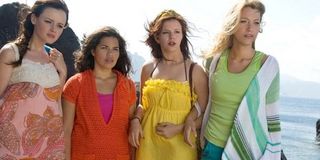 Evidently, The Sisterhood of the Traveling Pants co-stars Blake Lively and Amber Tamblyn are as close as can be in their real-life friendship. In fact, they reportedly are so close to each other that Lively let Tamblyn try her breast milk sometime in the past. (No, you did not misread that sentence.)
Amber Tamblyn revealed the hilarious nugget of information on Watch What Happens Live with Andy Cohen. The 34-year-old actress brought up the subject in an off-the-cuff way after convincing Andy Cohen to try her breast milk. (Yep, that sentence is correct, too.)
Amber Tamblyn did not clarify the details about how or why she tried Blake Lively's breast milk. We do know all four of the Sisterhood stars remain super close. In fact, earlier this month Blake Lively, America Ferrera, and Alexis Bledel attended the premiere of Amber Tamblyn's directorial debut, Paint It Black, at the Museum of Modern Art in NYC. So, perhaps the sharing of breast milk was but a friendly gesture.
Or maybe it happened because Lively wanted to be generous. After all, when Lively and her husband, actor Ryan Reynolds, visited the 2017 Met Gala, Reynolds went on and on about how wonderful Lively is. Conceivably, by sharing her breast milk, Lively was being her empathetic, giving self--or something. Right?
Here is how the subject arose in the first place. Andy Cohen brought up a story about Amber Tamblyn letting her husband, comedian David Cross, taste her breast milk. Discussing the report, Tamblyn asked Cohen if he would like to try some of the breast milk she pumped before the taping of the show. One thing led to another, and Cohen found himself with a bottle of Tamblyn's breast milk in his hand.
Once the talk-show host had taken a small sip of the breast milk, Amber Tamblyn revealed she once tried Blake Lively's breast milk. In fact, she tied everything together in a very Six Degrees of Kevin Bacon way, telling Cohen,
Of course, Amber Tamblyn connecting the dots in that analytical way is hilarious. But then, without missing a beat, Andy Cohen took the laughs to the next level and said,
The funny moment is sidesplitting from beginning to end. Check it out here:
It is reasonable to think Amber Tamblyn and Blake Lively share parenting tips in addition to sips of breast milk these days. Tamblyn and her comedian husband, David Cross, welcomed a daughter, Marlow Alice Cross, earlier this year. In doing so, they joined Blake Lively and Ryan Reynolds in the wonderful world of parenthood. Lively and Reynolds share a two-year-old son, James Reynolds, and an eight-month-old daughter, Ines Reynolds. We love that Lively and Tamblyn are still close friends. We'll be sure to let you know if either of them shed more light on what happened.
Your Daily Blend of Entertainment News