Amber Tamblyn Announces Her Baby's Arrival With The Most Adorable Instagram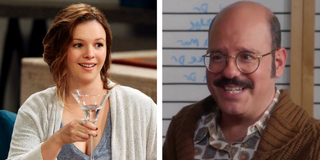 (Image credit: Two and a Half Men, Arrested Development)
One lucky newborn is going to grow up with the funniest parents ever! Amber Tamblyn announced this week that she has given birth to her daughter with husband David Cross, although the parents still aren't giving out their baby's name... or at least, I don't think they are.
On Tuesday, Amber Tamblyn posted a short video on her Instagram account, showing a little baby leg poking out of a pink blanket. In the caption, Tamblyn confirmed that she and David Cross have welcomed their newborn daughter into the world, and then shared a hilarious, clearly fake name: Dauphinoise Petunia Brittany Scheherazade Von Funkinstein Mustard Witch RBG Cross Tamblyn-Bey Jr. Well I mean, I assume it's fake, but with jokesters like Tamblyn and Cross you really never know. The fake name gives a couple shoutouts to some of Tamblyn's feminist heroes, including Supreme Court Justice Ruth Bader Ginsberg and Beyoncé, and Tamblyn ends the message with the women empowerment hashtag #TheFutureIsFemale.
Amber Tamblyn has made it very clear that she will be raising her daughter to be a strong feminist just like she is. Back in October, Tamblyn announced her pregnancy and the gender of the baby in an essay for Glamour, in which she wrote that she hopes she can break the chain of traumatic experiences each generation of women have to face in a patriarchal society in how she brings up her daughter.
At least there's no question that the little girl is going to have a lot of great movies and TV shows to watch when she gets a bit older --- both of her parents have starred in beloved projects. She's going to have the unique experience of getting some enjoyable morality lessons from her mom by watching Joan of Arcadia, or getting together with her girlfriends to bond over Sisterhood of the Traveling Pants. And let's not forget learning how to land the perfect joke from her dad by bingeing Arrested Development.
The newborn girl is Amber Tamblyn and David Cross's first child. The couple first sparked dating rumors back in 2008, and raised a few eyebrows due to their 19-year age difference, but they've proven to be the perfect match. They got engaged in 2011, and married the next year.
And there's even more good news for the newest member of the Tamblyn-Cross family: she's already got a famous bestie lined up! Amber Tamblyn's Sisterhood of the Traveling Pants costar and gal pal Blake Lively just gave birth to her daughter Ines Reynolds a few months ago. Looks like a new sisterhood is forming!
Your Daily Blend of Entertainment News
Thank you for signing up to CinemaBlend. You will receive a verification email shortly.
There was a problem. Please refresh the page and try again.