One Direction Is On Hiatus, But Sometimes Niall Horan Says It Doesn't Feel That Way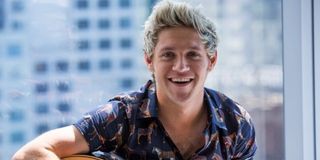 Like the other young men from One Direction, Niall Horan is developing solo works these days. However, he hears the cries of fans still hungry for a comeback from One Direction; after all, the guys did use the word "hiatus" to describe their disbandment in 2015, so many fans feel something is missing without the five guys. Apparently, Horan himself sees something lost now that One Direction is a thing of the past. In a recent interview, the 23-year-old singer opened up about missing his vocal companions and said,
Niall Horan expressed the candid words in a cover interview with Billboard. Horan and his friends from One Direction worked together from 2010 until 2015. The members of the pop quintet grew up together and probably spent most of their time with one another, so it is no wonder Horan misses the other guys being there, even if he has moved on to a budding solo career.
Gradually, each of the young men formerly of One Direction have been working toward a solo career, and now it is Horan's turn to shine. Zayn Malik left the boy band before they officially disbanded, and he became the first of the five members to try his hand at a solo outing last year. Harry Styles is promoting his eponymous debut album, which dropped not long ago. Meanwhile, Louis Tomlinson collaborated with Steve Aoki on the club-ready track "Just Hold On," while Liam Payne released a hot new R&B single, "Strip That Down," which is performing well on iTunes.
Now, Niall Horan rounds out the solo acts with his new song "Slow Hands," a singer-songwriter track with radio-friendly pop qualities. He is still in the development stage of his solo album, and he is getting help from producers who have worked with Sia, Olly Murs, Kings of Leon, and Fifth Harmony. For now, Horan does not know when his album will be ready, so questions about a return to One Direction are hard to answer. But with all five men focusing on their personal careers at the moment, Horan is uncertain if or when they will reunite.
According to Horan, he and the other boy band members have not talked about how long the "hiatus" will last, so he does not know when the band could eventually get back together. However, he would prefer to come back as a group in the next few years as opposed to when he and his four pals are in their forties. Horan also indicated Simon Cowell would probably return to the forefront of the group whenever they do decide to get back together. For now, it sounds like Horan is happy cultivating his Southern California sound and basking in the hard-earned success of his glory days with One Direction.
Your Daily Blend of Entertainment News