Zayn Malik Shaved His Beard And Looks Basically Unrecognizable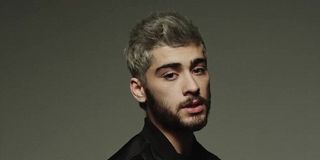 I guess leaving One Direction also means leaving chunks of your hair behind. A few months after Harry Styles cut his long locks off for charity, Zayn Malik has gotten rid of his signature beard, completely changing his look. Check out the newfound babyface Zayn below.
Since embarking on his solo career as the mononymous Zayn, Zayn Malik has been more experimental with his look, such as bleaching his hair blonde for his premiere music video "PILLOWTALK" or buzzing his hair down to a crew cut. He's kept his beard in tact throughout those changes, though, until now, which is why many of his fans responded to the new photo in shock.
In other hair-raising One Direction news, Harry Styles also recently debuted his new shorter hair on the cover of the current issue of men's fashion magazine Another Man. Over the summer, Styles revealed that he had chopped off his signature long hair for charity by posting a photo of his shorn ponytail.
But not every former One Direction member is making news for their hair --- Niall Horan is getting some coverage right now for releasing his first solo track. The romantic acoustic song "This Town" sees Horan at center stage alone for the first time since he was placed in One Direction on The X Factor. After the song was released on Thursday, Horan's former bandmates took to Twitter to congratulate him --- Liam Payne wrote that he was proud of him, Louis Tomlinson said he sounded great on the track, and Harry Styles called "This Town" a lovely tune.
The release makes Niall Horan the second member of One Direction to put out solo music, following Zayn Malik's debut solo album Mind of Mine, which was released at the beginning of this year. Both Harry Styles and Liam Payne have also signed solo recording contracts since One Direction announced its hiatus. As for Louis Tomlinson, he's started his own record label and is reportedly mentoring a girl group that he's put together for it.
Your Daily Blend of Entertainment News