Paris Jackson Says She Was Confused For A Homeless Person While On Set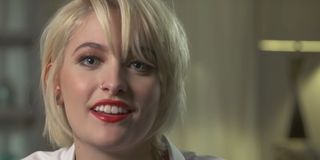 Paris Jackson, the daughter of late music legend Michael Jackson, is at the beginning of her career as a model and actress in Hollywood. But not everyone is familiar with her face yet. In fact, according to the 19-year-old herself, she recently showed up fresh-faced and ready to work on a Hollywood set, and a production assistant on the project mistook her for a homeless person. The odd interaction caught Jackson off guard, so she took to social media to share the details of the encounter. The heiress wrote,
It is easy to imagine Paris Jackson writing the message while rolling her eyes, shaking her head, and counting the houses she owns as the heiress to part of the estate of Michael Jackson. She shared the particulars of the misunderstanding with her 1.31 million followers on Twitter. Afterward, Jackson posted a second tweet with a photo of herself in green pants and a graphic tee ostensibly to show how she looked when the production assistant approached her, but she later deleted that post. (That was probably a wise choice, as homelessness does not have one distinct look.)
Regardless, Paris Jackson tried to keep the conversation going with the production assistant. Jackson said she explained why she there---waiting for hair and makeup---and she then asked the production assistant why he automatically jumped to the conclusion she was homeless. However, she did not mention whether or not he explained himself.
There are mixed reports about where the incident took place. Some say it was at a photo shoot, while others make it sound like the uncomfortable exchange happened on the set of Paris Jackson's upcoming first film, Gringo. Australian director Nash Edgerton is in overseeing the film, which stars Charlize Theron, Amanda Seyfried, David Oyelowo, and Thandie Newton in addition to Jackson. Before this movie, Jackson's biggest role was a brief role on an episode of Lee Daniels' television show, Star, so it makes sense people did not recognize her. But lately, people have been tossing around descriptions like "Hollywood's new It Girl" when it comes to Jackson. Plus, she recently inked a lucrative deal to become the new face of Calvin Klein, so soon enough people everywhere should be able to recognize her.
Then again, Paris Jackson does seem to lead a bohemian, low-key life. It is clear from Jackson enjoys fashion, as evidenced by her red-carpet style at events like this year's Grammys and GLAAD Awards. Still, based on Jackson's social media presence, it seems she focuses less on appearances and more on her efforts as an activist for social change to better the environment.
Perhaps Paris Jackson's personal style contributed to the misunderstanding. Regardless, the production assistant must be kicking himself.
Your Daily Blend of Entertainment News
Thank you for signing up to CinemaBlend. You will receive a verification email shortly.
There was a problem. Please refresh the page and try again.