Why Paris Jackson Decided To Step Into The Limelight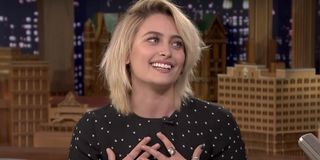 Paris Jackson is at the beginning of her career in Tinseltown, but people are already calling her Hollywood's new It Girl. As the daughter of the late Michael Jackson, Paris Jackson was born with privileges to help her skip the typical A Star Is Born storyline. She has extraordinary opportunities and astronomical wealth. Still, according to the 19-year-old heiress, the most important privilege she inherited was the chance to help other people. So, Paris Jackson is now stepping into the spotlight to claim her crown and see how she can make a difference in the world. She said,
It sounds like she plans to use her stardom to benefit the lives of others. How might Jackson do it, you ask? Well, she could eventually pursue music. The rising star explained to Teen Vogue that she, like her famous father before her, finds music to be her "number-one favorite form of expression." She indicated she is trying to become better at songwriting, something she previously talked about loving to do. She signed on to model for Calvin Klein, so perhaps she will join Kendall Jenner in the supermodels club. However, for the moment, it appears Jackson is focusing on acting as a medium for expression. She had a part on the Lee Daniels series Star. Plus, she reportedly landed a role alongside Charlize Theron, David Oyelowo, and Amanda Seyfried in an untitled comedic thriller film.
People have known about Paris Jackson since her birth, but it was at the memorial services for Michael Jackson that the world first saw her bravery when she stepped up to the microphone to speak through tears, nabbing a hug afterward from her aunt, Janet Jackson. Now it sounds like Paris Jackson is turning out to be a surprisingly ordinary young woman. Even the hippie-dippie nudist persona she has been driving home via social media does not come across as too over-the-top. She likes astrology and nudism, and she worships the planet? If that is the extent of her zaniness, perhaps she can become friends with Hollywood bohemians like Miley Cyrus and Shailene Woodley.
It is golden to hear Paris Jackson wants to help others with her platform. Her words reverberate the best of her father's career ambitions. Surely, he would be proud.
Your Daily Blend of Entertainment News
Thank you for signing up to CinemaBlend. You will receive a verification email shortly.
There was a problem. Please refresh the page and try again.