Serena Williams Was Shocked When She Found Out She Was Pregnant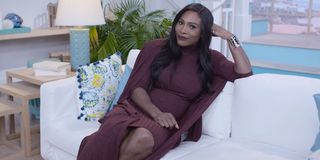 Serena Williams shocked the world this year when she announced her pregnancy by posting a public image revealing her baby bump. Apparently, the news came as quite a shock to the 35-year-old professional tennis legend herself, as well. In a recent interview, Williams opened up about her growing excitement as she prepares to meet her first child. Plus, Williams gave a moving account of the shocking moment she knew she and her Reddit co-founder fiancé, Alexis Ohanian, were going to become parents. Williams said,
The story of how Serena Williams learned she was pregnant is an adorable one. At the time, Williams had tennis on the brain, but she said her friend, Jessica Steindorff, suspected her gal pal might be pregnant because Williams had experienced signs of pregnancy, including a bout of nausea and vomiting.
At Jessica Steindorff's insistence, Serena Williams took a pregnancy test in January while she was getting ready for an event by Berlei, a lingerie company. Williams told Vanity Fair that she continued to go about her business after taking the test and proceeded to prepare for the event. In fact, Williams said she "totally forgot about it" because being pregnant seemed out of the question to her at that time. But sure enough, when Williams went back to the test, she discovered she was going to become a mom.
Afterward, Serena Williams took five other pregnancy tests to make sure. Then she showed Alexis Ohanian, who was just as shocked as Williams and everyone else. Of course, the tennis pro happily embraced the news. However, she indicated she still feels stunned about being pregnant. Williams explained,
Shocked or not, Serena Williams certainly appears as confident as ever in the many beautiful photos and videos she has been posting to social media to document the pregnancy. For example, Serena Williams has recently taken to social media to share her favorite shots from the photo shoot. Legendary photography Annie Leibovitz captured gorgeous maternity pictures of Williams for the event. Check out one of the photos here:
Moreover, like Olympic athlete Alysia Montano, Williams continues to promote the positive aspects of exercising while pregnant. For example, she recently posted the following Instagram video of herself practicing on the tennis court:
We are super excited for Serena Williams and Alexis Ohanian. Williams is going to make a great mom. Surely, the shock will wear off with time.
Your Daily Blend of Entertainment News
Your Daily Blend of Entertainment News
Thank you for signing up to CinemaBlend. You will receive a verification email shortly.
There was a problem. Please refresh the page and try again.