Vanity Fair Reveals Stunning Hollywood Issue Cover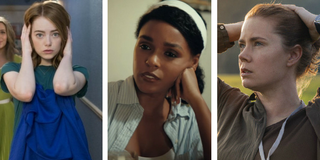 Vanity Fair is adding a whole lot of old Hollywood glam to the young starlets that stole our attention on the big screen this year. The magazine's Hollywood issue for 2017 is giving fans a look at the biggest stars of 2016 all dressed up in some serious glitz and glamour!
Shot by the legendary photographer Annie Leibovitz, the Vanity Fair cover dubs the eleven actresses posing in high glamour in a studio back alley Wonder Women. And Leibovitz must have been inspired by La La Land's cheery embrace of the classic, golden age of MGM films for this photoshoot, as the young actresses are all decked out in traditional old Hollywood elegance. Check out the cover spread below.
The cover story reads as an homage to the women that gave us hope throughout a particularly shitty year. Calling upon the timeless wit, fortitude, and grace of Carrie Fisher and her mother Debbie Reynolds, both of whom died at the very end of 2016, the profile praises the roles that these eleven actresses have taken on in the past year, all of which tell the stories of women overcoming adversity, and have all set themselves apart as some of the most lauded actors of 2016 for their performances. These actresses are (from left to right): Emma Stone, Lupita Nyong'o, Amy Adams, Natalie Portman, Ruth Negga, Dakota Fanning, Elle Fanning, Aja Naomi King, Dakota Johnson, Greta Gerwig, and Janelle Monae.
Emma Stone's rise from teen movie queen to critical darling in the past several years has been spectacular, and she cemented her place as one of the most promising young actresses in the business this year in La La Land. Drawing on some of her own experiences as an actor struggling to make it in L.A., Stone sang and danced her way into the hearts of everyone who say the film. She just nabbed a Golden Globe for her performance, and now is up for an Oscar as well.
Next to Stone is everyone's red carpet favorite: the constantly stylish Lupita Nyong'o. Though she only has a few film credits to her name, each of them has made a major impact. She won the Academy Award for her feature length film debut in 12 Years a Slave, and proved her unparalleled dramatic prowess yet again this year in Queen of Katwe and the Broadway play Eclipsed. And she's also getting into the blockbuster franchises, having just appeared in Star Wars: The Force Awakens and taking a part in the upcoming Black Panther.
Amy Adams did dual duty in 2016 by starring in two of the year's buzziest films: Arrival and Nocturnal Animals. Though many people assumed that Adams would be getting an Oscar nod for her alien-language interpretation skills in Arrival, it just wasn't in the cards. Still, the film was one of the more successful of the year in terms of both critical praise and box office draw.
Natalie Portman is positively glowing in the photoshoot, thanks to her growing baby bump. The actress and soon-to-be mommy of two has a lot to be excited about, seeing as she's up for the Best Actress Oscar for her portrayal of Jackie Kennedy in Jackie. If she wins, it would be her second Oscar after taking home the trophy for Black Swan a few years back.
One of the actresses that casual movie-goers may not so quickly recognize is Ruth Negga, who takes center stage in this photoshoot. Negga made a huge splash this year for her lead role in Loving, the film telling the story of the groundbreaking interracial marriage case, and now she's heading to the Oscars. Avid sci-fi fans might recognize her from her past TV work on shows like Misfits, Agents of S.H.I.E.L.D., and Preacher.
Elle and Dakota Fanning make up the sister act that's been conquering Hollywood since they were prepubescent girls. Though it was younger sister Elle who had the breakout year with her role in 20th Century Women and the controversial The Neon Demon, Dakota has never stopped proving her acting chops. The older sister is preparing to star in an adaptation of The Bell Jar this year.
Shondaland fans will quickly recognize Aja Naomi King for her no-nonsense law student character in How to Get Away with Murder, but she proved her big-screen chops this year in the buzzy The Birth of a Nation.
Getting into this old Hollywood-style photoshoot must have been a piece of cake for Dakota Johnson. The actress comes from a long line of Hollywood icons, such as her mother Melanie Griffith and her grandmother Tippi Hedren. But Johnson has made a name for herself by starring in the insanely popular film adaptations of the Fifty Shades of Grey book series.
Always beloved by the indie movie crowd, Greta Gerwig is now making a name for herself in the mainstream by appearing in two critical favorites from 2016: 20th Century Women and Jackie. But don't think she's lost her indie edge. Gerwig also starred in a pair of under-the-radar gems: Weiner-Dog and Maggie's Plan.
And last but certainly not least is Janelle Monae, who before 2016 was better known to her fans as a musician. Monae has been releasing infectious techno-pop hits for years, but this year she proved that she's a force to be reckoned with in the acting world as well as the music world. Signing on to two of the most critically beloved movies of the year --- Moonlight and Hidden Figures --- Monae delivered masterful turns as strong women who refuse to give up.
You can see more of Vanity Fair's stunning photos and the feature they've done on these talented women here.
Your Daily Blend of Entertainment News
Thank you for signing up to CinemaBlend. You will receive a verification email shortly.
There was a problem. Please refresh the page and try again.