Tyga Opens Up About Kylie Jenner Breakup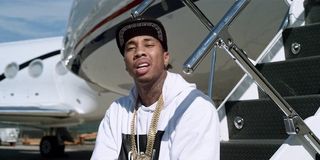 Tyga and Kylie Jenner dated off and on for two years before calling it quits. Now Tyga is ready to talk about what ruined the romance. In a recent interview, the 28-year-old rapper came clean about what it was like to be in a relationship with the youngest sibling from the Kardashian-Jenner clan. Apparently, 19-year-old Jenner's stage in life contributed to the breakup. Tyga explained, saying,
Tyga and the Life of Kylie celebrity share a ten-year difference in age. Is she a sophisticated young lady with a multimillion-dollar business to her name? Yes. Has she been in the spotlight for a long time? Sure. These positive characteristics probably improve her personality, but Tyga seems to know that certain aspects of growing up happen only with time.
After all, Tyga has plenty of experience in the romance department. He was in hot-and-heavy relationships long before Kylie Jenner came into his life. For example, he and Blac Chyna dated for a few years and had a child together, before splitting up and rebounding with their respective Keeping Up with the Kardashians cast members.
The mismatch of maturity levels was not the only factor in Tyga and Kylie Jenner's separation. During the interview, which was part of the Thursday, July 20 episode of the radio show The Breakfast Club, Tyga indicated that Jenner has too many people encouraging her to stay in the spotlight, and he remarked that living in such a hyper-public way is not for him. Tyga said,
Furthermore, Tyga was always bothered by the feeling that fans and people in the press did not approve of his relationship with Kylie Jenner. He briefly explored the societal attitudes that he noticed, and he said people in the media seemed not to like the idea of a black rapper with a young, white socialite.
Tyga discussed how he now believes he and Kylie Jenner have different goals in life. He acknowledged that he once loved her, but now that the relationship is over, he has moved on and does not think reconciliation will ever happen. Therefore, Tyga does not feel annoyed by rumors that Kylie Jenner has moved on with rapper Travis Scott, with whom she recently got spotted kissing in Houston, Texas.
In another part of the interview, Tyga responded to the recent drama between Rob Kardashian and Blac Chyna. From the sounds of it, Tyga is ready to move on from the Kardashian-Jenner scene.
Your Daily Blend of Entertainment News