How Blac Chyna Feels About Rob Kardashian Leaking Graphic Photos Of Her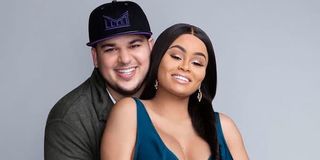 Last week, Rob Kardashian took to social media to post sexually explicit images of his former fiancée, Blac Chyna. The move was a scorched-earth moment in the ongoing trials and tribulations of the ill-fated couple. Now Chyna has revealed what she felt when she learned what the father of her second child had done. Chyna feels double-crossed by Kardashian, and now she's speaking out about the ordeal. The 28-year-old reality television personality opened up, saying,
Blac Chyna sat down for an interview with GMA and explained how upset she felt when Rob Kardashian went online and posted the graphic images she had previously sent to him in confidence. Kardashian first posted the images to Instagram, but the company shut down his account. When Kardashian lost access to his account, he hopped over to Twitter to continue ranting about Chyna. He eventually deleted some of the content he posted. Amid the turmoil, Chyna clapped back at Kardashian on Snapchat and accused him of domestic abuse during their relationship.
Apparently, the entire debacle began when Blac Chyna sent a video of herself making out with another man to Rob Kardashian. In the interview, Chyna explained why she sent the video to him. She believed Kardashian would leave her alone if he saw the video. However, Kardashian had the opposite reaction upon seeing the video. Then came the graphic images along with a lengthy rant in anger on social media. In the rant, Kardashian accused Chyna of doing drugs, using him for his famous family's name and wealth, and having a child with him to get back at her ex, Tyga. (Chyna had a child with Tyga before he began dating Kardashian's sister, Kylie Jenner.)
Blac Chyna and her attorney, Lisa Bloom, reportedly want a judge to grant a temporary restraining order against Rob Kardashian. Bloom pointed out the questionable legality of what Kardashian did, and Chyna doubled down on her allegations of physical abuse at the hands of Kardashian. Chyna also said nobody from the Kardashian-Jenner clan has reached out to her since the troubling ordeal began.
The whole situation has layers upon layers of complications. We'll have to stay tuned to see what comes of it.
Your Daily Blend of Entertainment News
Thank you for signing up to CinemaBlend. You will receive a verification email shortly.
There was a problem. Please refresh the page and try again.