Tyga Responds To Rob Kardashian's Blac Chyna Drama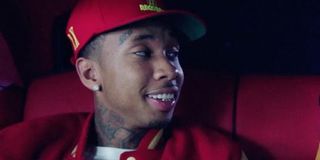 During Rob Kardashian's meltdown on social media, the 30-year-old reality television personality admitted many people warned him not to pursue a relationship with his former fiancée, Blac Chyna. Apparently, one of those people was Chyna's ex, Tyga. In a recent interview, the rapper dished about the drama between Kardashian and Chyna. Tyga suggested he once urged the Keeping Up with the Kardashians celebrity to shut down the relationship before it ever began.
Tyga sat down for an interview on the radio show The Breakfast Club on Thursday, July 20. When the conversation moved to Rob Kardashian and Blac Chyna's conflict on social media, the rapper indicated he once told Kardashian not to start up a relationship with Chyna and be extra careful if he did.
Tyga did not come right out and say disparaging things about Blac Chyna, but he indicated that she had shown some character defects when he was with her. Tyga said he tried to use his first-hand knowledge of being Chyna's significant other as a way to add weight to his concern for Rob Kardashian. However, Kardashian and Chyna ended up together anyway.
In the recent interview, Tyga said the situation was not awkward when he was dating Kylie Jenner while her brother was dating the mother of his child. Still, the 27-year-old rapper said he tried to warn Rob Kardashian about what might happen if he pursued a relationship with Blac Chyna. Tyga said he mentioned how he had shared a relationship for three or four years, so he felt like he had a view of how the situation might unfold.
The roller-coaster romance between Rob Kardashian and Blac Chyna began after Chyna and Tyga had dated for a few years, had a child together, and split up. When they parted ways, Tyga started dating Kardashian's younger sister, Kylie Jenner.
Then the plot thickened when Blac Chyna and Rob Kardashian began a torrid love affair, had a child together, became engaged, and filmed a short-lived E! reality television show for good measure. Many outsiders questioned the motivations driving the relationship between Kardashian and Chyna. Meanwhile, Tyga's relationship with Kylie Jenner fizzled out. Then Kardashian and Chyna called off their engagement after reportedly having a big fight.
The drama between Rob Kardashian and Blac Chyna shifted into overdrive this month when Kardashian leaked graphic photos of Chyna on social media platforms, including Instagram, which shut down his account. Afterward, Chyna went on Snapchat and accused Kardashian of domestic abuse during their relationship. Then Kardashian hopped over to Twitter to continue ranting about his sour relationship with Chyna; however, he has since deleted those tweets and gone into a social-media blackout. Furthermore, Chyna has brought a lawyer into the mix.
There is no word whether Tyga and Rob Kardashian have spoken since the online battle went down. Moreover, the future between Kardashian and Blac Chyna remains unclear. But with two kids involved, it would be great to see everything resolve soon.
Your Daily Blend of Entertainment News