Miley Cyrus Looks Unrecognizable And Nearly Nude On The Cover Of New Book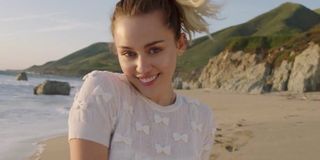 Miley Cyrus is a master of working minimal coverage and getting media coverage for it. Now, she is set to appear nearly naked on the cover of a new coffee table book. Acclaimed photographer David LaChapelle selected an enchanting photo of Cyrus as the cover art for his new book of photography. The picture is a fairy tale come to life, and Cyrus looks almost unrecognizable, dressed in a magical pixie costume complete with big hair, pastel makeup, fairy wings, and not much else. Perhaps the photo is NSFW, but it is about to sit facing front on shelves of bookstores soon, so go ahead and check it out here:
Love or hate Miley Cyrus, you can't deny that the 24-year-old pop star looks stunning in this picture. The image is beautiful and wildly imaginative. At the same time, the visual merchandisers at bookstores might be scratching their heads as they figure out how best to showcase David LaChapelle's Lost + Found.
After all, Miley Cyrus looks naked. But seeing Miley Cyrus nearly naked in high-fashion photography is something we've become accustomed to since she was a teenager causing a stir with that nearly nude photo by Annie Leibovitz. Besides, Cyrus technically was not actually naked during this photo shoot with David LaChapelle. She was wearing a sheer bodysuit with Swarovski crystals on it. Regardless, if David LaChapelle wanted to make a splash with his cover art, he certainly chose a great image to do so. The picture is provocative in and of itself, but the fact that Cyrus is having a "Malibu" moment right now no doubt helps.
Honestly, the book sounds incredible. If you don't know David LaChapelle, here is a brief rundown. He is an iconic fashion photographer who trained under the guidance of Andy Warhol in the '80s. People have called LaChapelle "the Fellini of photography," and he has worked with hundreds of influential stars over the years.
Apparently, this book splits David LaChapelle's pictures into two categories. First, it explores his early works from his younger days in New York during the '80s and '90s. Then it picks up with pictures LaChapelle took after re-emerging for a career comeback in 2006 following time away from the spotlight.
Miley Cyrus is but one of the many stars included in the pages. The book reportedly has pictures of numerous culturally significant musicians from Amy Winehouse to Michael Jackson to Lady Gaga. Fashion icons like Naomi Campbell are among David LaChapelle's selections, and people of social significance, like Hillary Clinton, make an appearance, too. LaChapelle even managed to squeeze in opposing forces in pop culture like Kanye West and Amber Rose, perhaps to give the book a bit of plot movement through pictures.
So, Miley Cyrus looks very different as David LaChapelle's magical muse. But the cover art has us wanting more, and that surely was the point.
Your Daily Blend of Entertainment News