How Kristen Bell Saved Josh Gad's Parents From Hurricane Irma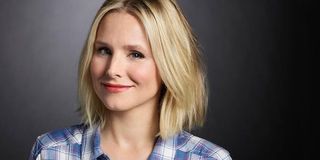 Kristen Bell is more than a great actress; she is a life saver. The 37-year-old movie star recently found herself stuck in Florida during Hurricane Irma, and when she found out her Frozen co-star Josh Gad's relatives were in a similar situation, she managed to move them away from the eye of the storm and over to her hotel in Orlando. Beyond grateful, Gad later hopped on social media to thank and praise Bell and post a picture of her with his parents. Take a look:
According to Josh Gad's post on Instagram, Kristen Bell rescued his parents, brothers, sister-in-law, niece, and nephew. How remarkable! But it turns out Josh Gad was not the only celebrity whose family Bell helped during Irma.
Actress Jennifer Carpenter of Dexter fame tweeted that Kristen Bell had managed to save her family members, too. Carpenter even added some context by posting additional pictures of her relatives on social media and explaining that they were ready to risk their lives with nothing more than helmets and a closet to keep them safe before Bell stepped in. Check it out:
Kristen Bell was in Orlando shooting the upcoming project Like Father when Irma began making its way to Florida. The comedic actress explained on social media that she and the people working on the movie did not have the option to leave, so they stayed there in Orlando and did their best to remain upbeat about the situation. Bell wrote,
What a wonderful friend. Actually, though, Kristen Bell not only helped her pal Josh Gad's family but many other people, too. Before the storm hit, Bell made runs to the store to stock up on supplies for all of the people seeking shelter at the hotel. Then throughout the storm, Bell uploaded moving social media posts to give updates about everything happening at the hotel.
For example, the Frozen actress tweeted about how thousands of senior citizens had evacuated their retirement homes and moved to the hotel for safety. Because Kristen Bell is an absolute gem, she spent the bulk of her time with the evacuees. She had dinner with the seniors and posted pictures and videos of them. Also, Bell gave an impromptu concert for other hotel guests to keep people's spirits up.
In fact, Kristen Bell took to social media to post numerous tips, such as how to turn a washing machine into a cooler and how to stock up on water by filling the tub. Plus, she retweeted updates about places where people could seek shelter. In other words, Bell was "an angel sent from above" to Josh Gad and his family and Jennifer Carpenter and her family, but Bell's compassion extended to countless other people as well.
Your Daily Blend of Entertainment News