Gigi Hadid Lost A Shoe On The Runway And Still Walked Like A Champ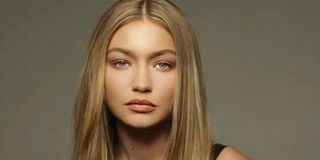 Gigi Hadid has trampled the competition on Fashion Week catwalks for several years. This week, the 22-year-old supermodel proved yet again that she means business. Before stepping out in a New York Fashion Week show, Hadid lost one of her client's shoes backstage. The blonde bombshell already had on one of the enormous shoes when it came time for her to walk. But instead of ditching the footwear entirely, Hadid marched out and did her best despite having a huge platform shoe on only one foot. Many fashion fans noticed the gaffe, but because Hadid handled it so well, most people who took to social media to post about the incident had nothing but nice things to say. Take a look at her mastery of the situation here:
Gigi Hadid fared all right at first in the Anna Sui show. During her turn down the runway, she walked like a pro without missing a beat. She walked on tiptoe so that she could keep her height and avoid taking attention away from the clothes. Then during the finale with the other models, Gigi Hadid received some extra support from her stylish sister, Bella Hadid, who was also in the show. Gigi Hadid wrapped her arm around her sister's shoulder and continued walking down the runway as if nothing were out of the ordinary. Have a look at this fashion fan's Twitter video of the sisterly love:
Now that is how you handle a Fashion Week blunder with poise. Gigi Hadid owned the situation like a boss and made it work. The lost shoe situation could have gone either way. A lesser model than Hadid might not have pulled off the moment, which would have angered the company. But now here we are talking about the shoes, the clothes, and the fun show, so the extra attention on the Anna Sui collection undoubtedly came as a pleasant surprise for the brand. Besides, Hadid seems to have an excellent rapport with the company. After the show, Hadid tweeted a video thanking the famous fashion designer for being such a supportive person throughout her modeling career. Anna Sui later retweeted the video. Check it out:
Wow, Gigi Hadid is a class act supermodel. She handled the moment like a true professional. She kept a good spirit about the whole thing, and she even thanked her boss afterward. Gigi Hadid definitely won the day.
Your Daily Blend of Entertainment News