Why Kendall Jenner Won't Be In The Victoria's Secret Fashion Show This Year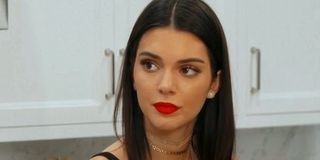 It appears Kendall Jenner will not be participating in the 2017 Victoria's Secret fashion show. Apparently, the 21-year-old supermodel decided to leave her VS Angel days in the past to take a better deal. Jenner is now the face of luxury lingerie company La Perla, and she reportedly signed a multimillion dollar contract with the brand. Of course, the new contract stipulates Jenner must not work with the company's competitors, so the Keeping Up with the Kardashians celebrity will not be keeping up with Victoria's Secret.
Last year, Kendall Jenner joined other young supermodels like Gigi Hadid for VS's annual fashion show, and many of Jenner's fans were looking forward to seeing her strut her stuff again this year. However, when the reality television personality posted an Instagram announcement about her new deal with La Perla, she essentially announced her decision to part with Victoria's Secret at the same time. Take a look.
Victoria's Secret is a great platform for supermodels, but this new contract with La Perla should be a big move for Jenner because the Italian company is in a state of rejuvenation. Julia Haart, the new creative director of La Perla, has been working hard to revamp the company's image ever since she took the reins. The former shoe designer started working as a consultant for La Perla in May 2015 and then catapulted to the creative director seat because of her forward thinking. Now she is guiding La Perla as it expands into a lifestyle brand with ready-to-wear. Haart recently told Vogue,
Furthermore, Julia Haart also talked about how she did not have a formal education in fashion design, and she credited that with her ability to think outside the box. She told SCMP,
Julia Haart sounds like a trailblazer, so it is no wonder Kendall Jenner wanted to get on board. Plus, Jenner looks drop-dead gorgeous in the brand's clothes. Here she is in another look from the company's line of dresses.
And here she is looking gorgeous in one of La Perla's sexy pieces of lingerie.
Kendall Jenner's track record with business decisions has been a little bit hit or miss this year, but it sure looks like she nailed it with the decision to work with Julia Haart and La Perla. It will be cool to see what they do next.
Your Daily Blend of Entertainment News