Heidi Klum Is Topless In Stunning Vacation Photo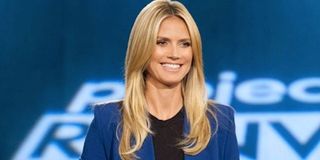 It looks like Heidi Klum is having a spectacular time on her tropical vacation in the Carribean. Klum is taking a break from her busy work schedule to enjoy the islands off the coast of Cuba. She is there in good company with her four children---daughter Leni (12) from her former relationship with Italian businessman Flavio Briatore, as well as son Henry (11), son Johan (10), and daughter Lou (7) whom she shares with her ex-husband, singer Seal. In a photo from Klum's holiday, the 43-year-old supermodel bares next to nothing while fishing from a boat in the ocean. Check out the picture Klum posted online, and continue reading below for details.
Heidi Klum posted the racy photo to let her 3.5 million Instagram followers know she had gone fishing and, apparently, gone topless. Klum has also posted a couple of other photos from her trip to paradise, including one revealing only her legs and painted toes as she admires surfers catching waves in the distance. In this fishing photo, Klum appeared to be basking in the warmth of the sun. She kept covered on top with no more than her hair and a scarf, and why not? They say if you've got it, flaunt it. Klum not only has it, but, as a veteran Victoria's Secret Angel, she certainly knows how to flaunt it in style.
We love seeing Heidi Klum kick back and relax. She is such a busy person these days. Of course, Klum is still hosting Project Runway. She is a judge on America's Got Talent, which recently announced the addition of Klum's supermodel colleague, Tyra Banks, as the MC to replace Nick Cannon. In addition, Klum reportedly spent time on the set of the upcoming Ocean's Eight to film a scene or two. So, she has earned some time off.
At the same time, Klum's four children must be keeping her on her toes. There are conflicting reports about whether or not Klum's boyfriend, 30-year-old Vito Schnabel, is there as well. Schnabel, the son of Oscar-nominated filmmaker Julian Schnabel, is an independent art curator and dealer from New York, so maybe he was too busy with an art project to have some fun in the sun. Klum and Schnabel have dated off and on since 2014, so surely it would be a help to have him around on a trip such as this one. However, it appears Klum is opting not to post much about the people with whom she's traveling. Instead, we get to enjoy the fun seaside activities vicariously through Klum herself as she and the kids hop around the Turks and Caicos.
One of the things we have always loved most about Heidi Klum is the way she encourages people to appreciate their body, and she never does it in a tacky way. A peaceful boat trip on an oceanic vacation seems like such a great way to let loose, so it's great to see her having some fun with or without a top. We hope the vacation is a memorable and relaxing time for everyone.
Your Daily Blend of Entertainment News
Your Daily Blend of Entertainment News
Thank you for signing up to CinemaBlend. You will receive a verification email shortly.
There was a problem. Please refresh the page and try again.