Chris Pratt Has Finally Spoken Out About Anna Faris After Split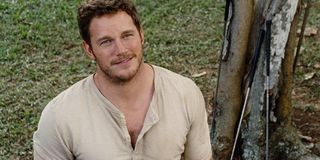 The news that Anna Faris and Chris Pratt decided to split up after eight years of marriage still stings for many of their fans, but apparently, the situation is amicable enough between the two stars. In fact, Pratt recently shared kind words of support for Faris and her Mom co-star, Allison Janney. Faris and Janney stepped out together as presenters at the 2017 Emmy Awards, and after the show, reporters caught up with Pratt, who said,
When Anna Faris and Chris Pratt first announced their separation, they said they "still have love for each other," "will always cherish" their time together, and "continue to have the deepest respect for one another." The words of encouragement for Faris that Chris Pratt shared with TMZ were far from romantic, but they did stay true to the promises of that joint statement about the civil nature of the split.
Besides, Anna Faris did do a great job, and she does rule. The event marked her first major red carpet appearance since the announcement she and Chris Pratt would legally separate, and she nailed it. The gorgeous purple Marc Jacobs gown Faris wore to the show accentuated her physique, and it was a big hit with the fashion police. The gown had beautiful jewel-encrusted detailing, and Faris accessorized with bling on her hands, though her wedding ring did not make an appearance. Reportedly, Faris and Pratt removed their wedding bands not long after they announced the split.
When reporters asked Chris Pratt why he did not attend the Emmy Awards, the 38-year-old actor joked (perhaps in jest) he had not received an invitation. We can look at that statement in two ways. On the one hand, it means Anna Faris did not ask him to be her plus one this year. (Obviously.) However, a more likely meaning was that he did not get an invite from the Academy because he did not have any awards to pick up or present. The latter explanation is way more likely because Faris didn't always bring Pratt to the Emmy Awards with her anyway. The last time she went was in 2013, and she attended by herself at that point, too.
It is worth noting that since Anna Faris and Chris Pratt split up, Faris' onscreen mother, Allison Janney, has appeared to be a source of friendship for the 40-year-old actress. Last month, Janney shared supportive words for Faris and called her "a trooper." It was comforting to see Janney stand in solidarity with her pal and TV daughter, Faris, at the Emmys.
Almost every statement from people close to Anna Faris and Chris Pratt has been upbeat. Their friend, Kristen Bell, also leaned into questions about the breakup. She suggested people ought to focus on the happiness of what was instead of the heartbreak of what ended.
It still feels like a bummer Anna Faris and Chris Pratt's romance is a thing of the past. But at least everybody is playing nice.
Your Daily Blend of Entertainment News
Thank you for signing up to CinemaBlend. You will receive a verification email shortly.
There was a problem. Please refresh the page and try again.