Chris Pratt And Anna Faris Are Separating, Here's What We Know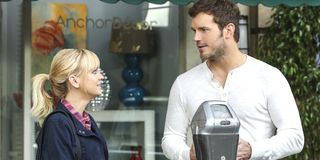 Anna Faris and Chris Pratt are hanging up their power couple status. Minutes after midnight, the two actors announced they decided to separate legally after eight years of marriage. The announcement came as a shock to many of Faris' and Pratt's fans. Details remain sparse, but Faris and Pratt did release a joint message on social media. The statement said,
Anna Faris and Chris Pratt both signed off at the end of the announcement, which they posted to their respective social media accounts. Fans on Facebook and Twitter left a mix of comments. Most were supportive and sympathetic.
Some fans questioned if the split corresponded to Anna Faris' and Chris Pratt's competing schedules. These days, for example, Anna Faris is working on the CBS sitcom Mom in addition to promoting The Emoji Movie and filming the remake of Overboard.
Meanwhile, Chris Pratt is busy with his movie-star schedule. He is part of two blockbuster franchises, so his schedule is a cycle of filming and promoting. For instance, he finally wrapped on Avengers: Infinity War and Jurassic World: Fallen Kingdom, but he will move on to promotions for those films soon. Eventually, the circuit will start again.
This breakup comes as a shock. Lately, we have seen positive news about Anna Faris and Chris Pratt. Just last week, Jeremy Renner talked about how he and the two stars, who have a home in Renner's neighborhood, set up play dates for their four-year-old children. The story had us imagining happy family gatherings.
Plus, Anna Faris recently revealed having a secret emoji code that she and Chris Pratt sent to each other when they wanted to get out of town. In that interview, Faris spoke about the complexities of power-couple status. It sounded like she and Pratt had to make adjustments they had not anticipated.
In the past, Anna Faris and Chris Pratt gushed (just enough) about their relationship. Pratt, for example, talked about growing up 20 minutes from Faris in Washington but not meeting her until 2007 on the set of Take Me Home Tonight, the first project they worked on together. Faris and Pratt got engaged in 2008 and married in 2009. They have one son, Jack, who is four years old.
Although the announcement came as a shock, the wording of the social media post made it seem like the split was something Anna Faris and Chris Pratt had been thinking about for quite a while. Hopefully, the two actors (and the rest of us) can move forward after the disappointing news.
Your Daily Blend of Entertainment News