Fergie And Josh Duhamel Have Split, And He's Taken Off His Wedding Ring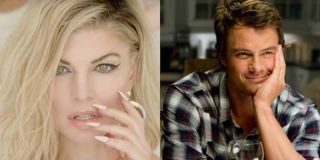 Pop singer Fergie and actor Josh Duhamel have separated after eight years of marriage. The couple addressed the matter in a joint statement via a representative on Thursday, September 14. Later, photographers spotted Duhamel hiking in the Brentwood neighborhood of Los Angeles. The 44-year-old movie star was sans wedding band, emphasizing the announcement that he and Fergie are the latest celebrity couple on the chopping block.
In fact, Fergie may have taken off her ring before Josh Duhamel. The day before the statement went public, photographers caught up with Duhamel, and he was still wearing his wedding band. On the other hand, Fergie arrived in Rio de Janeiro, Brazil, on Wednesday for the Rock in Rio festival, and she was not wearing her ring upon arrival.
There are many possible reasons why the Black Eyed Peas vocalist and her husband left their wedding bands at home. Fergie was traveling abroad, and Josh Duhamel was hiking. Both have removed their rings for similar activities in the past. For example, Fergie has removed hers to make music videos, while Duhamel has taken off his to play sports. Still, the wedding bands disappearing so close to the announcement suggests the relationship is over with no going back.
The joint statement Fergie and Josh Duhamel released provides little information about the split but asks for privacy during the difficult transition. The spouses, who share a four-year-old son, Axl Duhamel, said they would remain supportive of each other and their family. The statement said,
Neither Fergie nor Josh Duhamel made an independent comment about the split to add details, so it is unclear what happened. But a source for E! said Fergie and the Transformers actor grew apart, and the breakup was a long time coming. They supposedly tried to make it work this year but realized they were not on the same page about their personal and professional lives. The source suggested Duhamel takes a more conventional approach toward balancing Hollywood and family life, whereas Fergie tries to integrate family life into her world as a pop music star.
It is evident Fergie and Josh Duhamel wanted to make things work this year, as they each posted pictures to social media during happier times. On Father's Day, Fergie posted an Instagram picture of their son with a loving message for Duhamel. Furthermore, they each posted loving tributes on their eighth anniversary. Fergie wrote, "Happy 8th anniversary to my bae," in the caption for a couple's picture, and Duhamel shared this family photo with his nearly 2 million followers on Instagram:
Hopefully, the transition will be as painless as possible for Josh Duhamel, Fergie, and their young son. We'll keep you posted with any updates.
Your Daily Blend of Entertainment News