How Anna Faris Is Dealing With Her Split From Chris Pratt, According To Her Mom Co-Star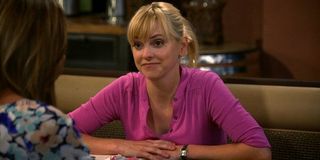 They say a mother knows best, and Anna Faris' onscreen mom, Allison Janney, certainly knows a thing or two about her TV-sitcom daughter. The multiple Emmy Award-winning actress, who plays Faris' mom on the CBS sitcom Mom, recently revealed that Faris is working through the heartache of her legal separation from Chris Pratt. In a recent red-carpet interview, Janney shared encouraging words about the 40-year-old actress and said,
Allison Janney called Anna Faris "a trooper" during the brief interview with E! News before TV Academy's Performers Peer Group Celebration this week. It sounds like Janney has her TV daughter's back, just like a parent and child in real life. It seems to be a true testament to their friendship.
At the same time, Allison Janney made it clear that she and the rest of the cast and crew are just as brokenhearted as the rest of us when it comes to Anna Faris and Chris Pratt's pending divorce. Janney said everybody is "supportive of" Faris but the feelings of sadness extend to "both of them." Janney added,
Indeed, they seem like great people. Perhaps because of that fact, most fans of Chris Pratt and Anna Faris were shocked when, earlier this month, they announced their decision to split up after eight years of marriage. The news blindsided many of us who saw Faris and Pratt as a happy-go-lucky pair.
Allison Janney is not the only famous person who has expressed words of kindness and sympathy since Anna Faris and Chris Pratt announced their plans. When reporters asked Faris and Pratt's Hollywood pal Kristen Bell about the situation, she talked about the real complexities of loving relationships and suggested that people are putting too much emphasis on the loss instead of the beauty of what took place.
There has been speculation that Anna Faris and Chris Pratt's split hinges upon unsurmountable work schedule conflicts. For example, Faris and Allison Janney currently are developing the fifth season of Mom. Faris has also been busy promoting The Emoji Movie, working on the Overboard remake, and doing her podcast. Meanwhile, Pratt has been busy with blockbuster movie franchises like the Guardians of the Galaxy and Jurassic World films. Faris and Pratt also share a four-year-old son, Jack Pratt, as well, so they have a full schedule off camera, too.
It says a lot for someone as hardworking as Allison Janney to come out and say Anna Faris is working hard through the heartache. Plus, it is heartening to know that, throughout all of this disappointing news, Faris and Chris Pratt have Hollywood colleagues like Janney to offer love and support.
Your Daily Blend of Entertainment News
Your Daily Blend of Entertainment News
Thank you for signing up to CinemaBlend. You will receive a verification email shortly.
There was a problem. Please refresh the page and try again.