Ariel Winter Just Went On An Epic Rant About Her Wardrobe Choices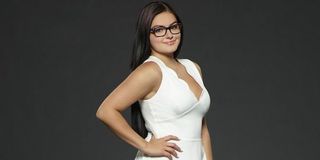 Ariel Winter has had it with negative comments about her looks. This week, the 19-year-old actress tweeted a lengthy rant to speak her mind on everything from fashion to modesty to paparazzi photos. Apparently, Winter is not trying to create controversy by wearing risqué clothing. Her sensual side is but an aspect of who she is, and she refuses to hide her true nature. Winter explained,
In the Twitter post, Ariel Winter rejected claims by critics who say she flaunts her body during daily chores and personal errands in public so that people will photograph her. Rather, Winter explained that the paparazzi follow her incessantly. She revealed,
Ariel Winter often makes headlines for her daring wardrobe choices. For example, this spring she attended a business-casual event with her Modern Family co-stars, and while the other actors of the long-running show wore jeans, khakis, and button-down shirts for the occasion, Winter stood out in a revealing Xena-style number Beyoncé might wear to sing "Proud Mary" in a Tina Turner tribute. Still, Winter said,
One of the critics of Ariel Winter's fashion sense is her estranged mother, Crystal Workman. Winter distanced herself from Workman years ago after getting a legal emancipation, but Workman recently gave an interview in which she criticized Winter (and managed to say she wants to reconcile). Regarding Winter's looks, Workman said,
It was not the first time Crystal Workman has shared controversial thoughts about Ariel Winter. She has reached out to Winter indirectly through the press before, but from the sounds of it, Winter will not have any part. The actress wrote,
Next, Ariel Winter stated how she feels about her freedom to express herself through fashion. She wrote she is an adult who can make personal decisions and have an identity. Winter indicated that she bares skin on occasion not because she lacks confidence and self-respect but because she has those qualities. The actress slammed bashers who call her "unintelligent" and "talentless" because of her fashion choices. She wrapped up, writing,
Perhaps part of the issue is that Ariel Winter's persona is racier than that of the fictional character she plays on Modern Family. She often posts Instagram pictures in which she is wearing short and tight clothing that show off a lot of skin and intimately-placed tattoos. Whether you think Winter's look is great or over the top, one thing is for sure; she has everybody talking.
Your Daily Blend of Entertainment News