Why It Took So Long For The Big Bang Theory's Jim Parsons To Get Married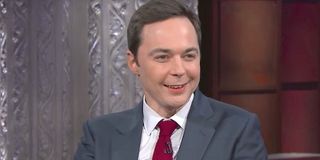 This year, Jim Parsons married his longtime partner, Todd Spiewak, after 14 years together. Now the 44-year-old The Big Bang Theory actor has opened up about why he and Spiewak took their time before saying, "I do." Apparently, Parsons and Spiewak felt so rock-solid in their relationship that they didn't think marriage would improve matters. Parsons elaborated, saying,
Jim Parsons shared his explanation during a sit-down interview on The Late Show with Stephen Colbert. Parsons revealed he and Todd Spiewak had been together for 14 years before they got married, so Colbert asked why, besides legal reasons, it took so long for Parsons and Spiewak to take the plunge.
Jim Parsons said he and his husband had personal reasons for choosing not to rush into marriage when marriage equality passed in the United States in June of 2015. Parsons indicated he and Todd Spiewak had lived the majority of their adult lives without the right to wed, so by the time marriage equality happened, they didn't know how marriage could improve their relationship. At the risk of sounding bitter, Parsons opened up and said,
Jim Parsons is not the only gay celebrity who has tied the knot but spoken about once feeling skeptical toward marriage. After RuPaul secretly married his partner, Georges LeBar, after 23 years together, he teased they never wanted to marry but did so after reviewing the financial benefits. That joke was funny but also hinted at RuPaul's feelings toward marriage after years without the right to marry. Still, it seems RuPaul is happier than ever now.
Similarly, getting married appears to have rocked Jim Parsons' world in wonderful ways. The actor suggested nothing has changed regarding day-to-day activities or the thoroughness of his love for his husband. However, he indicated being married to the love of his life has brought him a sense of peace. There is an underlying emotion he calls "a little buzz" that thrills him when he realizes he and Spiewak have the legal commitment his parents had.
Jim Parsons and Todd Spiewak married in a private ceremony in May at the famous Rainbow Room in New York City. The wedding and reception had a celebrity guest list with attendees like Jim Parsons' The Big Bang Theory co-star Mayim Bialik. Parsons and Spiewak wore matching black Tom Ford tuxedos for the ceremony and different jackets for the reception, which you can see in this gallery from Parsons' Instagram:
Jim Parsons first revealed his years-long relationship with Todd Spiewak in a newspaper in 2012. Two years later, he told Ellen DeGeneres he and Spiewak were not anxious to walk down the aisle, as he explained to Stephen Colbert. Nevertheless, Parsons has since said meeting Spiewak was "the best thing that ever happened" to him. It sounds like Parsons loves married life even if a took a while to get there.
Your Daily Blend of Entertainment News
Thank you for signing up to CinemaBlend. You will receive a verification email shortly.
There was a problem. Please refresh the page and try again.