How Russell Brand Has Learned To Have Healthy Relationships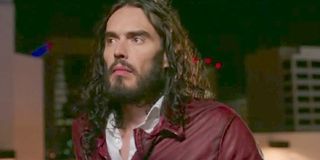 Russell Brand has had his fair share of ups and downs in romantic relationships, and now the 42-year-old comedic actor has opened up about his new approach toward love and marriage. In a recent interview, Brand spoke with self-awareness about the tumultuous relationships he had with women before his current wife and how for a long time the wreckage of his past shaped his inability to have a successful relationship. According to Brand, to have a healthy relationship, one must take selfishness out of the equation, recognize that love is a two-way street, and sprinkle in a lot of patience. He revealed,
Much of Russell Brand's talk with People concerned his new book about overcoming addiction, an aspect of Brand's life that contributed to his difficulties in the romance department. Of course, the fact that he was an addict did not mean he could not love or feel loved in return, but it did influence his ability to locate that nurturing, patient side of himself he now can access.
These days, Russell Brand is happily married to his second wife, Laura Gallacher, with whom he has a baby daughter, Mabel Brand. But several years ago, the headlines about Brand mostly involved his marriage to and divorce from Katy Perry. Brand did not name Perry in the interview and instead spoke of "ex-girlfriends." Still, considering how Brand treated his divorce, he should cut himself some slack because he was a class act after splitting from Perry. For instance, Brand once refused to describe the separation for Howard Stern because he knew Perry was in a sensitive place, and he did not want to hurt her. In fact, when they divorced, Brand could have requested half of her $44 million earnings, but he turned it down.
Still, Russell Brand dated other women before Katy Perry, and from the sounds of it, he had trouble in those relationships because of where he was in his life, whether that was a state of active addiction or somewhere on the road to recovery. Now Brand has reflected on how some problems in his past relationships stemmed from his attitudes, behaviors, and choices.
Russell Brand's new book, Recovery: Freedom From Our Addictions, follows his personal take on the 12 steps to recovery. In the past, he has spoken in depth about his struggles with attention deficit hyperactivity disorder, bipolar disorder, bulimia, pornography addiction, self-harming, and alcohol addiction and drug abuse. He began turning his life around in 2002 when he first sought treatment and became sober. Since then, Brand has spoken at length about how addiction and recovery influenced the quality of his relationships.
It is refreshing to hear a celebrity like Russell Brand take responsibility for the ways he, himself, contributed to the downfall of his past relationships. We don't often see people speaking with such thorough honesty when they reflect on their past, so Brand's words are a breath of fresh air.
Your Daily Blend of Entertainment News